NetGalley: Noah's Rainy Day (A Liv Bergen Mystery #4) by Sandra Brannan
Title: Noah's Rainy Day
Author: Sandra Brannan
Published: Sept. 1, 2013
Publisher: Greenleaf Book Group
Pages: 397
Genre: Murder Mystery
Review: ebook provided by NetGalley and publisher
From birth, Noah Hogarty has lived with severe cerebral palsy. He is nearly blind, unable to speak, and cannot run, walk, or crawl. Yet his mind works just as well as any other twelve-year-old's—maybe even better. And Noah holds a secret dream: to become a great spy, following in the footsteps of his aunt, Liv "Boots" Bergen.

Now, freshly returned from training at Quantico, FBI agent Liv Bergen is thrown into her first professional case. Working side by side with veteran agent Streeter Pierce, enigmatic agent and lover Jack Linwood, and her bloodhound Beulah, Liv must race to find five-year-old Max—last seen at the Denver International Airport—before this Christmastime abduction turns deadly. Meanwhile Noah, housebound, becomes wrapped up in identifying the young face he sees watching him from his neighbor's bedroom window, but he can neither describe nor inscribe what he knows.

And his investigation may lead to Noah paying the ultimate price in fulfilling his dream.

Noah's Rainy Day (the fourth novel in Brannan's mystery series) combines classic Liv Bergen irreverence and brainpower with an unflinching look at the darkest of human motivations, all while a whirlpool of increasingly terrifying events threatens to engulf Liv and Noah both in one final rainy day.
I received this book via NetGalley to give an honest review.
We get a bit more of Liv's family in this one, along with Liv becoming an agent! So Liv is an agent and in the process of moving so, she gets to spend some time with her nephew Noah. Noah who has cerebral palsy doesn't let that get him down. He can communicate through five finger communication and smiles. I really loved how Liv was able to understand her nephew and treated him like a normal child when she gives him a spy tool little does he know he will be capturing something that will help a case.
A child has gone missing and our old friend Agent Pierce will be on the case when Liv is asked to join in she is a bit surprised until she learns who has requested her. With the help of her bloodhound Liv will find out who kidnapped little Max but in the process, someone very close to her will be affected by this case.
I really loved Noah in this book and his ability to communicate and yes he would get frustrated but he did not let that deter from his happiness. You can tell that Liv's whole family is a loving family and they take care of each other. The author did a great job with her research on this disorder and how a person is affected.
One thing that bothered me in the book was the outhouse, for some reason I am thinking of this small space but yet the way the author described how something was put in there didn't really fit for me.
You can really see how strong minded and driven Liv is to help others even if she is hurt (it seems in every book she is hurt in some way. Poor woman needs a vacation).
I do wonder on her feelings between Agent Pierce and Linwood. Something has to happen there I just know it.
If you haven't read the other books in this series then you need to.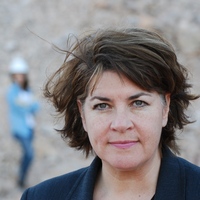 Sandra Brannan has created a heart-pounding mystery thriller series around Liv Bergen, a woman who embodies the spirit of South Dakota. Much like her character Liv Bergen, Brannan has spent her career in the mining business.
Working her way up from day laborer in the company her grandfather founded to a top executive in the family business wasn't easy, as Sandra often received threads from those opposed to mining. These life experiences gave her a first-person perspective into the high-stakes scenarios of which she writes.
In response to the overwhelming success of "In the Belly of Jonah" (2010), "Lot's Return to Sodom" (2011), "Widow's Might" (2012) and "Noah's Rainy Day" (2013), Brannan prioritizes her time first to the librarians and booksellers for nominating her to earn two ABA Indie Next List Notables, to book clubs and fans who have described Liv Bergen as the love child of Sue Grafton's Kinsey Milhone and Lee Child's Jack Reacher, and to teachers for all the gratitude she has for their role in her success. Her books have landed on the Denver Post best-seller list and reached the top 10 for e-book mysteries and top 5 for women's mysteries. She celebrates the launch of the fifth book in the series, "Solomon's Whisper," in September 2014.
Named one of the top 25 most fabulous women by Black Hills Magazine, Brannan lives in her hometown of Rapid City, South Dakota, with her husband. Their budding family consists of four boys and three grandchildren.