NetGalley: Let Me Lie by Clare Mackintos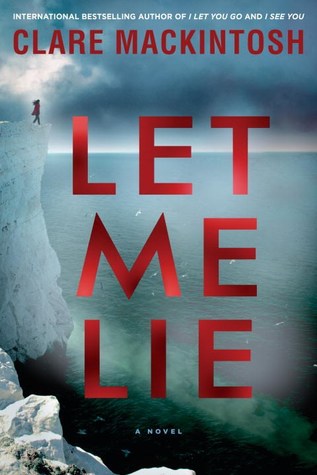 Title: Let Me Lie
Author: Clare Mackintosh
Published: March 13, 2018
Publisher: Berkley Publishing Group
Review: ebook provided by NetGalley and publisher
Genre: Mystery/Thrillers
Two years ago, Tom and Caroline Johnson committed suicide, one seemingly unable to live without the other. Their adult daughter, Anna, is struggling to come to terms with her parents' deaths, unable to comprehend why they chose to end their lives. Now with a young baby herself, she feels her mother's presence keenly and is determined to find out what really happened to her parents. But as Anna digs up the past, someone is trying to stop her. She soon learns that nothing is as it seemed.
I received this book via NetGalley to give an honest review.
So when I started out the book and we started going through different points of views I thought we were dealing with an actual ghost. Though as the story went on it became clear as to who was actually telling us what was going on in their view. Not everything in this book is what it seems, so when the truth comes to light for me I was like oh wow so that is how it truly went down.
Anna is having a hard time with both of her parents committing suicide. When weird things start to happen she gets the police involved yet what starts to unwrap is something more sinister. Can Anna really comes to terms with the truth? It is really hard for me to write this review up without giving anything away. All I will say is pick this book up and give it a try, see what you think.
As far as characters went I felt they were well developed and the plot line was steady though at times felt a little slower but nothing too major. I did like the twist in the end even though it was sad that is how it went down when the truth came to light.
Clare Mackintosh spent twelve years in the police force, including time on CID, and as a public order commander. She left the police in 2011 to work as a freelance journalist and social media consultant now writes full time. She lives in North Wales with her husband and their three children.
Clare's debut novel, I Let You Go, is a Sunday Times bestseller and was the fastest-selling title by a new crime writer in 2015. It was selected for both the Richard and Judy Book Club, and was the winning title of the readers' vote for the summer 2015 selection, and ITV's Loose Women's Loose Books. Her second novel, I See You, is a number 1 Sunday Times bestseller, and a Richard and Judy Book Club pick. Clare's books are translated into more than 30 languages.
Clare is the patron of the Silver Star Society, an Oxford-based charity which supports the work carried out in the John Radcliffe Hospital's Silver Star unit, providing special care for mothers with medical complications during pregnancy.