Handler by Tish Thawe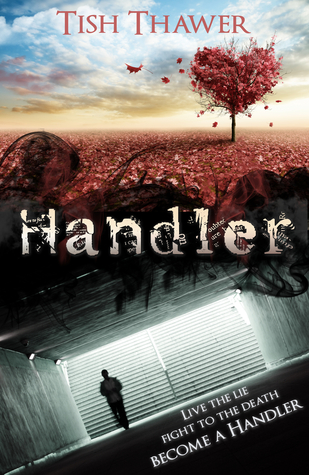 Title: Handler
Author: Tish Thawer
Published: Dec. 16, 2017
Publisher: Amber Leaf Publishing
Pages: 276
Genre: Sci-fi/Dystopian
Review: ebook provided by author
Our world was perfect––until we broke the law: Don't go out at night.
Utopian by day, dystopian by night; this is the world I recently discovered. I now struggle with the fact that our whole society has been based on a lie. There's only one way to change it––conquer the darkness we've all been raised to fear.
Live the lie; fight to the death; become a Handler. It's the only way.
A sci-fi/dystopian novel.
I received this book to give an honest review.
WOW I was mind blown about 60% in....I so was not really expecting it to be like that.
Before I get into the review I have to say there was a part in the book that bothered me a bit. There are camera's everywhere. Yet when Lainy and Cole are discussing family they are talking freely like nothing is there. To me that seems weird as it seems Cole is very observant about what he says around the cameras. Though this little thing won't affect my review of 5 wineglasses!
The world as we know it is no longer the same. It seems that cities are divided into quadrants and there is a curfew. You can not be out at night though during the day it seems to be a Utopia world.
Cole is a normal teenager or at least to normal as you can get to one. When his best friend goes missing Cole along with his best friend's brother go out to search for him. What they uncover is nothing that they would believe actually goes on.
There is a world underneath their world a world that no one is who they truly seem and you have to fight to move on.
Cole will not go down easy and we see how he truly tries to do the right thing even if that means leaving those he has gotten close to behind.
The title of this book says it all Handler. What could that mean exactly? Well you have to read the book to find that out.
I literally read this book in one sitting and at the end I was wanting more! Now I have read this author's work before when she co-authored with someone else and I loved her writing then. To be able to read another book by her and love it shows the talent she has.
As far as characters went the only one that truly got on my nerves was Lainy she felt way to clingy in my opinion!
The rules of the above ground socity is pretty crazy like one dessert per week! My question is how if they know you have more than one?
Now if you like a bit of sci-fi mixed into the world of dystopia than pick this book up! I think you will really enjoy it!
2017 - #1 Bestseller in Historical Fiction (Witches of BlackBrook)
2017 - Top 100 Bestselling in Paid Kindle Store (Witches of BlackBrook)
2015 - Best Cover - Penned Con (The Witches of BlackBrook)
2015 - Readers Choice Award - Blogger Choice Awards (The Witches of BlackBrook)
Bestselling and Award Winning Author, Tish Thawer, writes paranormal romances for all ages. From her first paranormal cartoon, Isis, to the Twilight phenomenon, myth, magic, and superpowers have always held a special place in her heart.
Tish is known for her detailed world-building and magic-laced stories. Her work has been compared to Nora Roberts, Sam Cheever, and Charlaine Harris. She has received nominations for a RONE Award (Reward of Novel Excellence), and Author of the Year (Fantasy, Dystopian, Mystery), as well as nominations and wins for Best Cover, and Reader's Choice Award.
Tish has worked as a computer consultant, photographer, and graphic designer, and is a columnist for Gliterary Girl media and has bylines in RT Magazine and Literary Lunes Magazine. She resides in Arizona with her husband and three wonderful children and is represented by Gandolfo, Helin, and Fountain Literary Management.
You can find Tish on Facebook at http://www.facebook.com/AuthorTishThawer
A common FAQ: "How do you pronounce her last name?"
Answer: Think "Bower" or "Thow-er". It's Persian!