Digital Free December: The Hate U Give by Angie Thomas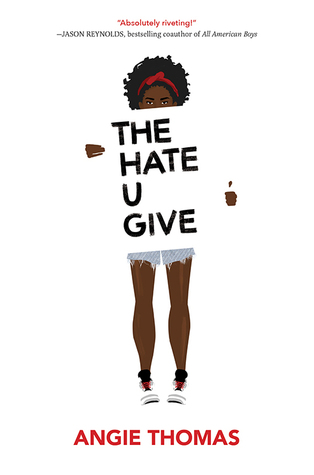 Title: The Hate U Give
Author: Angie Thomas
Published: Feb. 28, 2017
Publisher: Balzer & Bray
Genre: Teens, YA
Pages: 464
Review: Bought this baby!
Sixteen-year-old Starr Carter moves between two worlds: the poor neighborhood where she lives and the fancy suburban prep school she attends. The uneasy balance between these worlds is shattered when Starr witnesses the fatal shooting of her childhood best friend Khalil at the hands of a police officer. Khalil was unarmed.
Soon afterward, his death is a national headline. Some are calling him a thug, maybe even a drug dealer and a gangbanger. Protesters are taking to the streets in Khalil's name. Some cops and the local drug lord try to intimidate Starr and her family. What everyone wants to know is: what really went down that night? And the only person alive who can answer that is Starr.
But what Starr does or does not say could upend her community. It could also endanger her life.
I have heard a lot about this book, I really wanted to buy the book but at the time I didn't have the money and it was a bit more than I was really to pay for an ebook. So I figured I would borrow from the library got on the waiting list and I was like maybe 3rd in line to get it. That for me was too long. Then I saw that a school district banned this book and that sent up the flags that I needed to get my hands on this book. Why would a school district ban a book called The Hate U Give? I jumped to Amazon and ordered it that same day when I got the book in I was so flipping happy. I totally wished I would have bought the signed copy on the author's website.
Thanks Katy ISD because of you making the news about banning this book I had to have it!
Now when I started the book I knew I was hooked but knew I would not have been able to finish it in one sitting, it was going to take me a couple of days. I didn't know how deep this book was until I was a few pages in. This author hit so much truth that I would recommend people read it.
I felt this book was real in so many ways! You have friends who are fake and do not truly understand what you stand for or believe in. You have to wear two faces sometimes because you do have to worry if people would like the "real" you. Death; impacts all those who knew the person and yet when justice is not served properly it becomes a bigger impact. This is just a few of those real things.
We are introduced to Starr who lives in a so called bad neighborhood yet her momma wanted better for her and her brothers as far as schooling went and moved her to a prep school. Yet Starr knows that she can't act like people would think she would act if they knew where she lived.
We see how Starr has to act different and you can really tell that the author did a good job with the characters feelings and how she handled problems that came her way.
When Starr ends up in a car with her best friend Khalil and sees him die her whole world changes. She can truly see how the justice system works and how people truly act in a tragedy. She will lose friends and gain closer to a friend. Her eyes are way opened to it all, though her mother and father tried to protect her.
Starr ends up fighting for Khalil and letting the truth come to light, she doesn't want his name dragged through the streets as a thug because he was not one. This book was on point in more than one way. I felt the author did a damn good job with it ALL! When I do my top ten books for the month this book will be number 1. This book was raw, it was heartbreaking, it was real, it had the truth in it.
Characters were flipping amazing, the situations that were in the book were on point, the plot was a steady and went at a decent pace. I liked all the characters but I will say this I loved Starr's mom and dad. The way she could read them and how real her parents were was awesome!
I want to say more but I just know I will be giving it all away. PICK UP THIS BOOK, OWN THIS BOOK!
Angie Thomas was born, raised, and still resides in Jackson, Mississippi as indicated by her accent. She is a former teen rapper whose greatest accomplishment was an article about her in Right-On Magazine with a picture included. She holds a BFA in Creative Writing from Belhaven University and an unofficial degree in Hip Hop. She can also still rap if needed. She is an inaugural winner of the Walter Dean Meyers Grant 2015, awarded by We Need Diverse Books. Her debut novel, The Hate U Give, was acquired by Balzer + Bray/HarperCollins in a 13-house auction and will be published in spring 2017. Film rights have been optioned by Fox 2000 with George Tillman attached to direct and Hunger Games actress Amandla Stenberg set to star.