A Glitch in the System by Adam Aust
Title: A Glitch in the System
Author: Adam Aust
Published: Oct. 31, 2016
Pages: 268
Genre: Thriller
Review: ebook provided by author
Angela Gianni lived a quiet, alternative life as a dominatrix on the outskirts of Los Angeles—until her closest friend and secret lover both disappeared, and a bloody corpse materialized in her beach bungalow. With no memory of the murder, and bodies piling up as fast as the incriminating evidence against her, Angela's only hope may be F.B.I. agent John Bancroft and the potential link between his twelve-year-old cold case and her own. But with the walls closing in around her, and her circumstances turning from desperate to dire, Angela might not survive long enough to connect the dots . . .
I received this book to give an honest review.
I have to say I was a bit impressed with this book. You have a young lady named Angela who is a dominatrix sounds kinky! Well when her best friend ends up missing well then that is what starts the downhill slope for Angela. She starts getting text messages and has to start doing some things or her friend and soon her lover will die. Angela tries the whole police thing but when that doesn't work out in her favor Angela is at a loss. She doesn't remember buying items to killing anyone so who is framing her?
Everything starts to come together at the end and there is a reason she was picked for this.
I really enjoyed how well the plot was steady for me there was no boring or slow parts it just flowed nicely. Characters I thought were good and I really enjoyed how Angela just handled the situations she found herself in.
The author did a great job with everything in my opinion with this book! If the author keeps writing like this I will be reading more by him.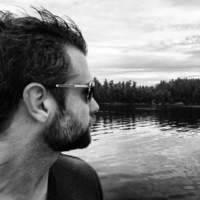 As a litigator in New York City and Washington D.C., and as a neurogenetics and neuropyschiatrics researcher earlier in his career, Adam Aust had more fodder for stories than he could reasonably keep to himself. So, he started writing. A Glitch in the System is the first of his efforts, but other works are on the way.
Be the first to experience them by connecting with Adam directly at http://www.adamaust.com, Facebook (https://www.facebook.com/AdamAustAuthor/), Twitter (https://twitter.com/AdamAustAuthor), and Amazon (http://goo.gl/t2wUXJ)