Review: When Darkness Falls: The First Vampire Redemption Story by Ellen Chauvet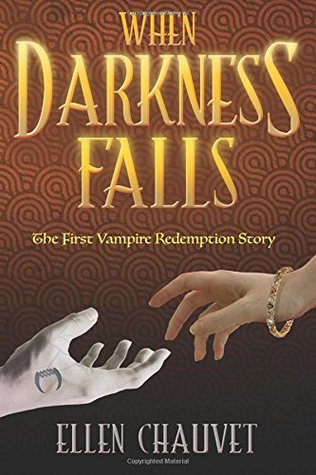 Title: When Darkness Falls
Author: Ellen Chauvet
Published: March 17, 2016
Publisher: Relentlessly Creative Books
Pages: 291 (print)
Genre: Paranormal, action
Review: ebook provided by author
Buy Links:
Amazon
,
Amazon.uk
Lexie Miles, a strong-willed Southern woman with a raw vocabulary and a taste for sex, is living her dream life in Paris. She is devastated when her best friend Emma is brutally murdered by vampires. From that moment Lexie's "perfect world" begins to crumble. She discovers her entire life has been a sham and everyone she cares about has been lying to her. Angry doesn't begin to describe her reaction to the news. Plunged into a two-thousand-year-old war between good and evil, she is propelled into a world of blood, lust and dark secrets. She must embrace her birthright to fight an ancient threat to humanity. Bequeathed with the dubious gift of being the "Chosen One," Lexie meets the enigmatic Etienne Benoit. She falls hard for him and when he betrays her, she vows to get revenge. After all, she is a vampire executioner and killing vampire is what she does. If you like a good vampire romp with lots of interesting plot twists in beautiful European settings and a lead character who trash talks and enjoys dancing on the edge of erotica, tell your other books to move over and make room for When Darkness Falls.
I received this book to give an honest review.
So the book was okay nothing that left me going OMG!!
Lexie as a character I just didn't really get her too much and her sayings that she would say. I was left going really? I live in the south and never heard that before.
There were some things that threw me for a loop as far as the way Lexie would act but nothing too bad. Sometimes she didn't seem like a young adult more like a teenager in some scenes.
So Lexi is a normal girl or so she thinks until her best friend is murdered. This changes her whole world because know she has learned that she is a vampire executioner. We see how she goes back and forth for a while between wanting to do it and then not so sure.
While learning that she is a vampire executioner she fights her feelings for Etienne because a vampire and an executioner can't be together right?
While learning the history of all this she is going to have to prepare to fight and evil vampire couple who has no problem turning and killing humans.
There is a bit of a twist within the story along with some backstabbing so it was interesting to see where it was all going to go and will love conquer the dark.
So somethings that bothered me. Lexie has been working out before she learned her background. Though she acts surprised when she finds out about hitting someone in the nose a certain way will kill them. Uhh you didn't learn this in your workout that you have been doing?
Etienne has been around for years and years so he is pretty strong. I would like to know then why if he drinks human blood one time he automatically goes to the dark side? I mean I liked how that came about but I wished there was more explanation.
If you like vampires stories with some action and a few sex scenes then I say hey pick it up.
Ellen lives in Vancouver, BC and finds the months of rain and gloom particularly conducive to creating in this genre. Ellen's love of reading and writing began at an early age and she wrote several short stories and plays which were lost over the years and many moves. In 2003 a friend introduced her to the TV series, Buffy, The Vampire Slayer, and Ellen was fascinated by the idea of good and evil vampires, especially Angel who was both. At that point she started reading every vampire book she could find, particularly, Anne Rice, Laurell K. Hamilton and Charlaine Harris. When Darkness Falls is the first book in the series The Vampire Redemption Series and is adult fiction.