Review: Contagious (The Contagium #1) by Emily Goodwin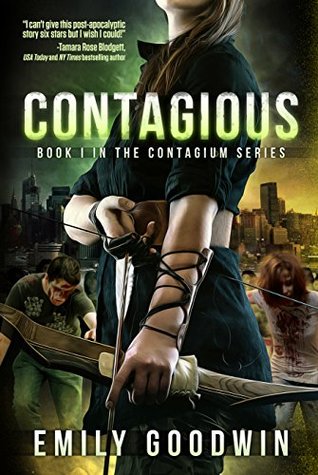 Title: Contagious (The Contagium #1)
Author: Emily Goodwin
Published: July 25, 2014
Publisher: Premuted Press
Pages: 336
Genre: YA, Zombies
Review: ebook provided by author
Buy Links:
Amazon
,
Amazon.uk
"I wasn't afraid of death. If I died, it would be over. My worst fear wasn't of dying, it was of living. Living, while everyone around me had their flesh savagely torn from their bodies to be shoved into the festering and ever-hungry mouths of zombies. It terrified me, right down to my very core, to be alive while the rest of the world was dead."

During the Second Great Depression, twenty-four year old Orissa Penwell is forced to drop out of college when she is no longer able to pay for classes. Unable to find a job, she moves in with her aunt in Indianapolis. Down on her luck, Orissa doesn't think she can go any lower.

She couldn't be more wrong. A virus breaks out across the country, leaving the infected crazed, aggressive and very hungry.

Orissa is used to only being responsible for herself. When she finds herself a reluctant leader of a group of survivors, she must make a choice: set aside her issues and help the others or go off alone in search of her own family and friends.

I received this book to give an honest review.
This book was an enjoyment to read even though I found myself not really liking the doctor in this one or the way Orissa would act within some scenes.
We meet Orissa who unfortunately meets up with zombies and the crazies just by being in the wrong place at the wrong time. You see she went in to get a checkup after she had surgery only to find out the world changed so quickly. Herself along with a few others go to find her family and friends and it seems all along the way, they are encounter these zombies and crazies. There is plenty of action within the story as you all know that zombie killing is no easy task. When they end up meeting up with a group of survivors Orissa finds herself on the end of getting to do missions with other teammates especially those that won't shoot their foot off. I think for her this is a good thing as she is very active and can hold her own pretty much. In this compound of survivors each person has a job and her friends end up having their own jobs to do especially the doctor which is a really good thing, because he is set on now helping to find a cure with the other scientist that is there. We see how Orissa seems to find her spot in this new world while fighting the feelings she has for her roommate. Where we leave off has me wondering what other humans are out there or is there something more.
With Orissa I enjoyed how she took charge and didn't back down. That is always great with a heroine in the story especially when they think of others and not for themselves.
Though I have to say the way the doctor acted at times he didn't seem like he was grown. He relied on Orissa way too much at times I felt. I understood that Orissa could kick butt but at the same time he is a grown man he should be able to hand his own doctor or no doctor.
Let's move on to Orissa, this girl just found herself in way too many bad situations that I felt could have been avoided. I understand taking care of others and trying to survive but dang girl you might need to let others take the lead lol.
Overall this was a good book and I plan on reading book two. I want to see where this is going to go. Will Orissa find a romance? Will someone die not by the hands of the zombies? Can there even be a cure? Who knows.
Emily Goodwin is the New York Times and USA Today Bestselling author of over a dozen of romantic titles. Emily writes the kind of books she likes to read, and is a sucker for a swoon-worthy bad boy and happily ever afters.

She lives in the midwest with her husband and two daughters. When she's not writing, you can find her riding her horses, hiking, reading, or drinking wine with friends.

Emily is represented by Julie Gwinn of the Seymour Agency.