NetGalley Review: Born Mobster Born Mobster by Paige Dearth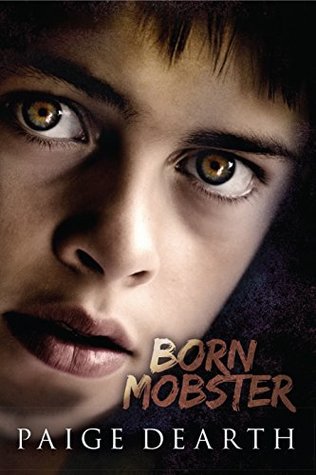 Title: Born Mobster
Author: Paige Dearth
Published: Sept. 29, 2016
Publisher: Fiction With Meaning LLC
Pages: 506
Genre: Dark, Adult
Review: ebook provided by NetGalley and Author
Buy Links:
Amazon
,
Amazon.uk
Seven-year-old Tony Bruno is an outcast among his peers. Bullied by his classmates and rejected by his father, Tony is lonely and desperate. Tired of being bullied, Tony strikes back. In one act of blind courage, he shifts the balance of power.

When Tony becomes a teenager, a new kid named Salvatore Morano transfers to his school and becomes the object of ridicule. Tony feels compelled to help the new kid. He has no idea who Salvatore is and what it means to be his friend.

Soon Tony is sought out by Salvatore's father, Johnny Morano, the godfather of the Philadelphia Mafia, to help protect his son. Tony, who has admired the Italian mob from a distance, has always been fascinated by the Mafia's power. He quickly learns that with power comes sacrifice. Tony will be forced to draw upon strength from deep within to survive his new, unwanted life. From the dark corners of his new world, Tony is driven to emerge from the fires of hell to find happiness.

Born Mobster is a haunting story of one bullied child who is deprived of love and taunted by corrupt individuals along his journey. Follow Tony through his rite of passage and experience the brutalities, murders, love, and honor that finally force Tony to become the man he was born to be.

I received this book via NetGalley to give an honest review.
Man when I read this author's work I always go through a range of feelings. Her books are so darn raw I ask myself why put yourself though the torture of feelings? It always comes back to me as I love how the author captures so much within the story and that no matter what comes your way you will survive and come out stronger.
We are introduced to Tony this poor guy has had a hard life. Now before I get to far into the book there is violence, rape, torture, and abuse if you have triggers just beware. We see how Tony deals with bullying at home to at school as well. No one seems to want to help him which is truly sad. It is literally heartbreaking to see a child go through so much within his life. His father can not seem to love him as a father should. Instead he is ashamed at him and constantly beating him and calling him names. His mother made me mad at how she handled it all. Though I knew she felt remorse I felt she could have done more. The way Vincent and Tony became friends I was very surprised at. I guess it takes enough of someones crap to have a bully realize that the person you are bullying is not that bad of a person.
As time goes on Tony grows up and experiences what happens in juvie, this changes him and yet he is never the same fully. Thank goodness his friends Sal and Vinny stand by him no matter what. I really liked Tony as a character he never gave up on life no matter what was thrown his way, he always found a way to survive. When he finally found happiness in the form of love I told myself this is what Tony needs, but yet life doesn't always allow that. Sometimes what is in your past comes back to haunt you and not in a good way. We see Tony move up from weak to strong, gangster to mobster and it is quite a journey for one man to take.
One question I did have was what ever happened to Tony's sister Maci.
Born and raised in Plymouth Meeting, a small town west of Philadelphia, Paige Dearth was a victim of child rape and spent her early years yearning for a better life. To escape the unwanted attentions of her molester, a pedophile uncle who lived with the family, she married at the age of nineteen and moved with her new husband to Chula Vista, California. After two years of marriage during which she struggled to make ends meet, she became pregnant, only to discover that her husband was a heroin addict. Paige waited for the birth of her daughter and when the baby was just eight months old, moved back to Pennsylvania. With no formal education or money to fall back on, she courageously set out to pick up the pieces of her shattered life and make it whole once more.
Living through the fear and isolation of her youth, Paige developed the ability to create stories that would help her cope and finally put them to use by embarking on a series of novels. BELIEVE LIKE A CHILD, the author's debut offering, is the darkest version of who she could have become, had fate not intervened in the nick of time.
WHEN SMILES FADE Paige's second novel is a tale of endurance, perseverance, courage and the overwhelming desire of one child to fight back.
Paige's novels always present a fine balance between what lives on in her imagination and the evil that lurks in the real world.