Review: Punk Rocker by Brenda Perlin, Mark Barry, Janet Salopek Green, Erin McGowan, Christoph Fischer, Caddy Rowland, Steven E. Metz, Alan Wynzel, Carla Mullins Haughan, Jim Kavanagh, Jorge Newbery, Alison Braun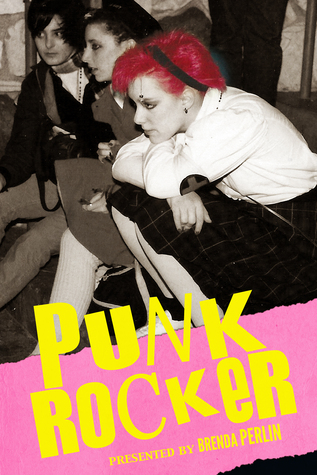 Title: Punk Rocker
Authors: Brenda Perlin, Mark Barry, Janet Salopek Green, Erin McGowan, Christoph Fischer, Caddy Rowland, Steven E. Metz, Alan Wynzel, Carla Mullins Haughan, Jim Kavanagh, Jorge Newbery, Alison Braun
Published: May 7, 2016
Publisher: Blossoming Press
Pages: 212 (print)
Review: ebook
Buy Links:
Amazon
,
Amazon.uk
Punk Rocker is the much anticipated sequel to "L.A. Punk Rocker": top author Brenda Perlin's best-selling punk anthology.

Here you will find a collection of short stories from those who were there in the early days. Hard core musical anarchists who saw it all, heard it all, did it all - and survived to tell their stories.

Along with Brenda and the West Coast punks, Punk Rocker features rebels, writers, commentators and street kids from all over America – talking about the music, the fashion, the attitude, the passion, the lifestyle and, of course, the bands who made it all happen.

Meet people who discovered punk's new dawn – and those who were there for its sunset, in the ramshackle mausoleum of The Hotel Chelsea.

Backstage, in the clubs, in the gigs, in hotel rooms with the band, on the streets –Brenda was there. She saw it all. And so did her friends.

Punk Rocker. If you missed it…what are you waiting for?

This honestly is not my type of book to read but I figured what the hey I would give it a try. It was interesting to see how all these authors were affected by the Punk era. We get accounts of what each author saw and felt within the scene along with what was the fashion.
Each author had a different feel to what they were telling us but it all centers around Punk Rock which you learn that some of the authors were official "Punk" but hey they felt the music within their soul. They felt the deaths of the music icons when their time came to past. I have to say there was one story in here that I literally laughed so hard at. I can not remember the title of the top of my head but it has to do with being a teenager and going to see the Clash and he ends up in the back of his car instead with vomit on his jacket.
If you like to read about memories and some fictional stories along with seeing some pictures of famous Punk Rockers then give this book a try. It is a quick read once you get into it.