#PBwkendread Review: Shutter (Shutter #1) by Courtney Alameda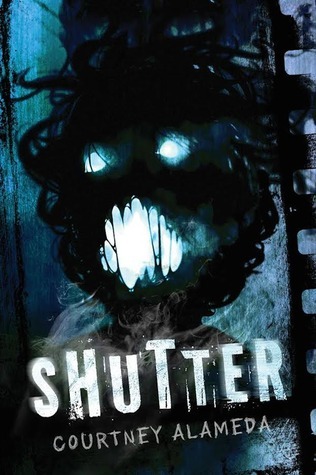 Title: Shutter
Author: Courtney Alameda
Publisher: Feiwel & Friends
Published: Feb. 3, 2015
Pages: 384
Genre: YA, Paranormal
Review: Hardback from public library
Buy Links:
Amazon
,
Amazon.uk
Micheline Helsing is a tetrachromat—a girl who sees the auras of the undead in a prismatic spectrum. As one of the last descendants of the Van Helsing lineage, she has trained since childhood to destroy monsters both corporeal and spiritual: the corporeal undead go down by the bullet, the spiritual undead by the lens. With an analog SLR camera as her best weapon, Micheline exorcises ghosts by capturing their spiritual energy on film. She's aided by her crew: Oliver, a techno-whiz and the boy who developed her camera's technology; Jude, who can predict death; and Ryder, the boy Micheline has known and loved forever.
When a routine ghost hunt goes awry, Micheline and the boys are infected with a curse known as a soulchain. As the ghostly chains spread through their bodies, Micheline learns that if she doesn't exorcise her entity in seven days or less, she and her friends will die. Now pursued as a renegade agent by her monster-hunting father, Leonard Helsing, she must track and destroy an entity more powerful than anything she's faced before . . . or die trying.
Lock, stock, and lens, she's in for one hell of a week.
So the cover called to me on this one. I have to say it just screams "pick me up and read me."
So we get to meet Micheline and her friends who monster hunt but in a different way. Micheline uses cameras and mirrors to exorcise the ghost that she sees.
When they take on a job and do not wait for backup that is when things go down hill, all those that are in Micheline crew end up having a curse called a soulchain which is not good because they have seven days to destroy the entity that caused this or all they all die. Not too hard right? Well when Micheline learns who is behind it all she is in shock and she has to go through tragedy a second time.
I really enjoyed the world that the author created, the supernatural play a normal role in the world so it is normal for ghost and other paranormal to be about, since there is a team to handle it all. I also enjoyed how the author described certain paranormal entities like the scorpion. No it is not a real scorpion but made up of different parts so to speak and the way it moves oh lawd FEAKY!! For the description you are going to have to dive into the book.
I think the lineage of the characters was a great idea to put into the book. You have the Helsing's and the Stoker's. Yes the old school lineage is in this book but it is just their blood.
The characters were well developed i.m.o. and I thought Micheline's character was awesome. She didn't mind breaking the rules when she felt they needed to be broken, she is strong, and hard headed at times. Though it all comes together to make a good character.
I hope there is a book two out so I can read more about this world that has been created!
#PBwkendread
Courtney Alameda's spent her entire career trying to con and cajole people into reading great books. A veteran of the big-box bookstore trenches, Courtney now works as a librarian for the prettiest library you've ever seen, where she spends her time ordering large stacks of YA books, doing readers' advisory, and dressing up as various mythical creatures for a variety of library events.

Courtney has an affinity for brightly colored lipstick, urban exploration, cosplay, video games, and Twitter. If she's listening to music, it's usually Florence + the Machine, Marina and the Diamonds, Rodrigo y Gabriela, or Jason Graves. Her addiction to Dr. Pepper is legendary.

Courtney holds a B.A. in English Literature with an emphasis in Creative Writing from Brigham Young University. She is represented by the amazing and talented John M. Cusick of Greenhouse Literary. A Northern California native, she now resides in Utah with a legion of books and a tiny, five pound cat who possesses a giant personality.