#PBwkend Read: Shutter (Shutter #1) by Courtney Alameda
So my paperback read for this weekend is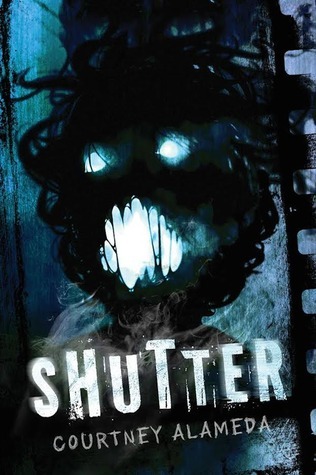 the paper I drew out of my jar was a library book and so I saw this baby at my local library. The cover is what called to me so I picked it up without looking for anything else.
When I went to Goodreads I saw this book was on my list to read I was super glad I picked it up as I had forgotten it.
I am hoping it is as good as not only the cover makes it look but also what the blurb says.
I won't be starting this book until today (Sunday) as Friday I was super busy then Saturday I had a massive headache and I still feel it there today but not as bad yet. So maybe I can get a few pages read before it becomes too much for me.
So read the blurb below and see what you think about the book.
Horror has a new name: introducing Courtney Alameda.
Micheline Helsing is a tetrachromat—a girl who sees the auras of the undead in a prismatic spectrum. As one of the last descendants of the Van Helsing lineage, she has trained since childhood to destroy monsters both corporeal and spiritual: the corporeal undead go down by the bullet, the spiritual undead by the lens. With an analog SLR camera as her best weapon, Micheline exorcises ghosts by capturing their spiritual energy on film. She's aided by her crew: Oliver, a techno-whiz and the boy who developed her camera's technology; Jude, who can predict death; and Ryder, the boy Micheline has known and loved forever.
When a routine ghost hunt goes awry, Micheline and the boys are infected with a curse known as a soulchain. As the ghostly chains spread through their bodies, Micheline learns that if she doesn't exorcise her entity in seven days or less, she and her friends will die. Now pursued as a renegade agent by her monster-hunting father, Leonard Helsing, she must track and destroy an entity more powerful than anything she's faced before . . . or die trying.
Lock, stock, and lens, she's in for one hell of a week.