#PBwkendread Review: The Obsession by Nora Roberts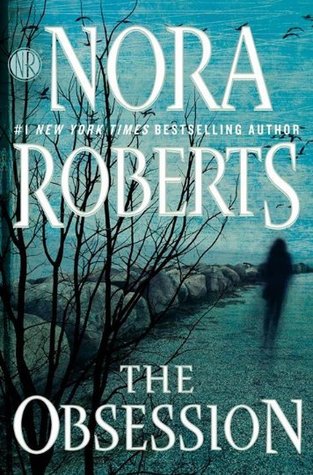 Title: The Obsession
Author: Nora Roberts
Published: April 12, 2016
Publisher: Berkley
Pages: 453
Review: Hardback from library
Buy Links:
Amazon
,
Amazon.uk
Naomi Bowes lost her innocence the night she followed her father into the woods. In freeing the girl trapped in the root cellar, Naomi revealed the horrible extent of her father's crimes and made him infamous.
Now a successful photographer living under the name Naomi Carson, she has found a place that calls to her, thousands of miles away from everything she's ever known. Naomi wants to embrace the solitude, but the residents of Sunrise Cove keep forcing her to open up—especially the determined Xander Keaton.
Naomi can feel her defenses failing, and knows that the connection her new life offers is something she's always secretly craved. But as she's learned time and again, her past is never more than a nightmare away.

So when I wasn't able to get this book via NetGalley I saw it in my public library and just had to check it out. The book starts off strong but the ending was kind of weak. I wanted more of a powerful ending than how it came about.
Though I have to say on page 352 I figured out who the killer was and I was just like oh man that is crazy. I was very glad that I figured it out then and not earlier in the book, I really like books like that.
Now this story is told through Naomi and how she is living her life now. You see Naomi did something amazing she saved a young woman from dying at the hands of her father at age 11. She dealt with the stares and whispers, the movie talk and books about what happened, and even moving to get away from it all. She even changed her last name. She has done wonderful for herself by taking pictures and trying to put the past behind her but what happens when the past comes for her can she handle it?
As we move forward in the story Naomi buys an old house and sets out to fix it up and in the process finds friends and love something she has never had both of. I really enjoyed Naomi as a character we see how she is reserved but slowly comes out of her shell thanks to Xander, Jenny and Kevin. Now as far as the killing that happens it doesn't come about until much later on in the book. We don't even really know much about it until the first girl ends up missing. Which then we get to meet Mason who is Naomi's brother, we see that he was really serious about the profession he really wanted to go into.
I think the author did a wonderful job with the way the house was coming about, you could really see it in your head from the ideas that Naomi and Kevin bounced off to each other to the landscape that was going to done to it.
The whole scene with the dog named Tag that Naomi found and not wanting him at first was funny, I mean every time there was interaction between Naomi and Tag you just couldn't help but giggle and shake your head. All of the characters within the book were well developed and remember able. I didn't have a favorite character as I really enjoyed them all in their own quirky way and I think they help make the story into a whole.
#PBwkendread
Nora Roberts was born in Silver Spring, Maryland. She began writing when a blizzard in February 1979 kept her in her hilltop home with a three and six year old for nearly a week of canceled kindergarten and dwindling chocolate supplies.

During the now-famous blizzard, she pulled out a pencil and notebook and began to write a story for her own entertainment. From the first page, she knew it was what she was meant to do. Several manuscripts and rejections later, Irish Thoroughbred was published by Silhouette in 1981.
The Liar, published in April 2015 by Putnam, is her 214th book. She hit the NY Times Bestseller list in 1991. Every book since 1999 has made that list.
Recently The New Yorker called her "America's favorite novelist."
In 1995, she began writing a police procedural series featuring Eve Dallas, a NY homicide cop, and set in the near future under the J.D. Robb pseudonym. Devoted in Death, out in September 2015, is the 41st entry in the series.