#PBwkendread Review: The Infinite Sea (The 5th Wave #2) by Rick Yancey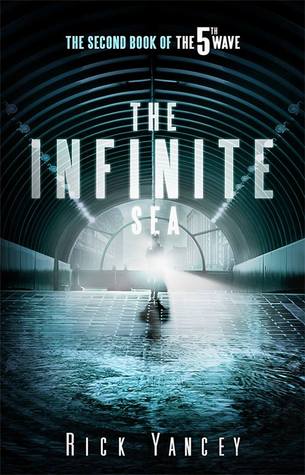 Title: The Infinite Sea
Author: Rick Yancey
Published: Sept. 16, 2014
Publisher: G.P. Putnam's Sons Books for Young Readers
Pages: 300
Buy Links:
Amazon
,
Amazon.uk
Review: Hardback from library
How do you rid the Earth of seven billion humans? Rid the humans of their humanity.
Surviving the first four waves was nearly impossible. Now Cassie Sullivan finds herself in a new world, a world in which the fundamental trust that binds us together is gone. As the 5th Wave rolls across the landscape, Cassie, Ben, and Ringer are forced to confront the Others' ultimate goal: the extermination of the human race.
Cassie and her friends haven't seen the depths to which the Others will sink, nor have the Others seen the heights to which humanity will rise, in the ultimate battle between life and death, hope and despair, love and hate.

I was interested to see where this book was going to go after I finished the first one.
In Infinite Sea we are not focusing on Cassie as we did before we are getting the point of view from Ringer. Though I was kind of thrown off from when we would change from Ringer to Cassie and what she was going to and then back again to Ringer. As the author does say hey this is so and so point of view right now. So you have to make sure you pay attention .
After everything that has been done now what the aliens are doing is using humans against humans. I have to say the scene where it had the house and the wheat filled I was just in awe at how it all came about to the survivors there. I have to say these aliens are pretty smart.
So to me there wasn't much action within the book like in book one so that was kind of lacking for me. The only very interesting thing for me was the way the kids were used to kill those still alive.
We get to learn about Poundcakes past and why he is now called Poundcake which I thought was really neat to have his backstory. We also see Cassie's brother Sam grow up a bit more in this one he is more adapt to helping out and not being scared.
I think the author did a great job with doing Ringer's story as she also plays a bit part in everything though she wasn't too much of a main character in book one as she is in this one.
We also learn what happened to Evan as we know there was an explosion but we never know if he lived or died heck no one in the crew knows. So we finally get the answer to that.
For me the book was just lacking that super wow factor that I was expecting, not sure quite yet if I will be reading book three yet or not. I am leading more towards maybe I will as I want to know what the end result is. Who will finally win in this battle?
#PBwkendread
Rick is a native Floridian and a graduate of Roosevelt University in Chicago. He earned a B.A. in English which he put to use as a field officer for the Internal Revenue Service. Inspired and encouraged by his wife, he decided his degree might also be useful in writing books and in 2004 he began writing full-time.
Since then he has launched two critically acclaimed series: The Extraordinary Adventures of Alfred Kropp, for young readers, and The Highly Effective Detective, for adults. Both books are set in Knoxville, Tennessee, where Rick lived for ten years before returning to Florida.