Review: School of Deaths (The Scythe Wielder's Secret, #1) by Christopher Mannino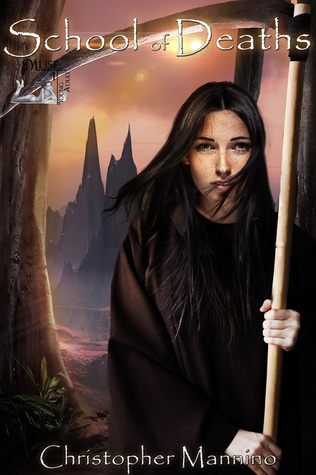 Title: School of Deaths (The Scythe Wielder's Secret #1)
Author: Christopher Mannino
Published: May 14, 2015
Publisher: Muse It Up Publishing
Pages: 270
Genre: Teens
Review: ebook provided by Pump up your book
Buy Links:
Amazon
,
Amazon.uk

Thrust into a world of men, can a timid girl find bravery as the first female Death?
Thirteen-year-old Suzie Sarnio always believed the Grim Reaper was a fairy tale image of a skeleton with a scythe. Now, forced to enter the College of Deaths, she finds herself training to bring souls from the Living World to the Hereafter. The task is demanding enough, but as the only female in the all-male College, she quickly becomes a target. Attacked by both classmates and strangers, Suzie is alone in a world where even her teachers want her to fail.

Scythes hungry for souls, Deaths who subjugate a race of mysterious magicians, and echoes of an ancient war with Dragons.
As her year progresses, Suzie suspects her presence isn't an accident. She uncovers a plot to overthrow the World of Deaths. Now she must also discover the reason she's been brought there: the first female Death in a million years.
I received this book to give an honest review.
I love anything to do with Grim Reapers add it to my list of other amazing things I love to read about.
I knew in the synopsis that I would be reading about a thirteen year old and so that wasn't a big deal for me. I really liked how the author described Suzie losing weight and not having an answer. Then BAM when we read about the Hereafter we learn why she was losing weight. Really neat idea to have.
Suzie is the only female in School of Deaths since well in a million years, though the reason she is there is because she has a purpose.
Though she has a huge test to past and that will determine her future no pressure right?
It isn't easy being the only female death in a school when everyone else is a male, so for her to make a few friends is pretty good.
We get a decent pace in the story though it isn't all that fast to finding out why Suzie is there and how she uncovers the betrayal. I did enjoy the way the School of Deaths worked and how they had classes to attend which weren't all that normal and the food I thought that was pretty neat.
Now the reason I gave this book a three is well it seemed too easy when Suzie had uncovered what was going on within the school. I figured there would have been more to it, it seemed simple.
It just didn't feel like it had a lot of wow to it for me it is really hard to explain.
Another part I had an issue with is the way she treated one of friends just because of the way he acted I mean she kind of went crazy on him a bit I felt and I didn't fully understand her behavior.
I think that the young teens might enjoy this book a whole lot more as it doesn't have any bad language, hardly any action, and a bit of a crush between two characters.