#PBwkendread Review: Slasher Girls and Monster Boys by April Genevieve Tucholke, Stefan Bachmann, Leigh Bardugo, Kendare Blake, A.G. Howard, Jay Kristoff, Marie Lu, Jonathan Maberry, Danielle Paige, Carrie Ryan, Megan Shepherd, Nova Ren Suma, McCormick Templeman, Cat Winters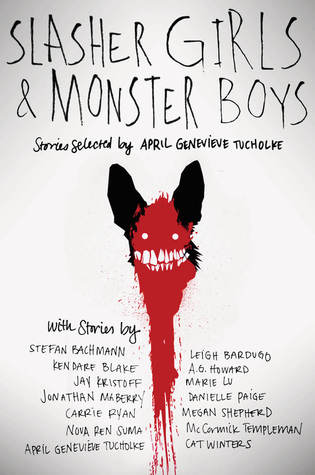 Title: Slasher Girls and Monster Boys
Author: Various authors April Genevieve Tucholke, Stefan Bachmann, Leigh Bardugo, Kendare Blake, A.G. Howard, Jay Kristoff, Marie Lu, Jonathan Maberry, Danielle Paige, Carrie Ryan, Megan Shepherd, Nova Ren Suma, McCormick Templeman, Cat Winters
Published: August 18, 2015
Publisher: Dail Books
Pages: 400
Genre: Horror, short stories
Review: library book
Buy Links:
Amazon
,
Amazon.uk
For fans of Stephen King, Neil Gaiman, Lois Duncan, and Daphne Du Maurier comes a powerhouse anthology featuring some of the best writers of YA thrillers and horror

A host of the smartest young adult authors come together in this collection of scary stories and psychological thrillers curated by Between the Devil and the Deep Blue Sea's April Genevieve Tucholke.
Each story draws from a classic tale or two—sometimes of the horror genre, sometimes not—to inspire something new and fresh and terrifying. There are no superficial scares here; these are stories that will make you think even as they keep you on the edge of your seat. From bloody horror to supernatural creatures to unsettling, all-too-possible realism, this collection has something for any reader looking for a thrill.
Fans of TV's The Walking Dead, True Blood, and American Horror Story will tear through tales by these talented authors:
Stefan Bachmann
Leigh Bardugo
Kendare Blake
A. G. Howard
Jay Kristoff
Marie Lu
Jonathan Maberry
Danielle Paige
Carrie Ryan
Megan Shepherd
Nova Ren Suma
McCormick Templeman
April Genevieve Tucholke
Cat Winters

My librarian recommend this book to me and I have to say it was just okay.
Though each story was pretty weird, creepy a bit of horror it just didn't do it for me like I thought. I kept putting the book down in the middle of a read and would pick it up later on. When that happens it just means I am not clicking with the book as I hoped to.
I think the best story out of it all was Sleepless. It is where two people meet after talking to each other online but it seems one of them is more than they seem. It is a good reminder to watch who you talk online to.
Each story was unique and for those that like creepy, semi scary stories then this is the one for you.
If I have to rate this book I would give it a three as some of the stories worked for me and others were just meh. They are all new authors for me so I do plan on checking out their work to see if they have other books I may enjoy.
I recommend this as a read to read during Halloween.
I won't rate each story but I will say that each story ranging from a rating of a 3 to 4 the only one that got a 5 was Sleepless.
#PBwkendread