#PBwkendread Review: Salt & Stone (Fire & Flood #2) by Victoria Scott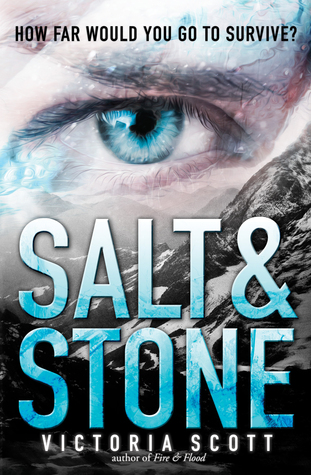 Title: Salt and Stone (Fire and Flood 2)
Author: Victoria Scott
Published: Feb. 24, 2015
Publisher: Scholastic Press
Pages: 320
Genre: YA
Review: library book
Buy Links:
Amazon
,
Amazon.uk

What would you do to save someone you love? What about risking...everything?
In Fire & Flood, Tella Holloway faced a dangerous trek through the jungle and a terrifying march across the desert, all to remain a Contender in the Brimstone Bleed for a chance at obtaining the Cure for her brother. She can't stop—and in Salt & Stone, Tella will have to face the unseen dangers of the ocean, the breathless cold of a mountain, and the twisted new rules in the race.
But what if the danger is deeper than that? How do you know who to trust when everyone's keeping secrets? What do you do when the person you've relied on most suddenly isn't there for support? How do you weigh one life against another?
The race is coming to an end, and Tella is running out of time, resources, and strength. At the beginning of the race there were 122 Contenders. As Tella and her remaining friends start the fourth and final part of the race, just forty-one are left...and only one can win.

What an excellent read. Though all I can truly say is there HAS to be a third book coming out soon.
We leave off right where Fire and Flood ended. If you read book one then you know how about the Brimstone Bleed and the Cure. You also know that only one person can win the cure for someone they love. Well Tella is still in the race though the relationship between her and Guy is a weird one. It is like he wants to be with her but pushes her away but pulls her back, how she hasn't fully lost her mind with it is amazing.
In Salt and Stone the reminding contenders which there are less than 100 now have to travel the sea and the mountains but it won't be easy. I have to say it seems this leg of the race that it is much harder than the previous.
I think in this one we really see Tella grow especially as a leader and I really liked that. She stands up for what she believes and you can tell she doesn't truly have a mean bone in her body and cares for all, even those that are rude.
We meet a new character who seems a bit shady and when we find out who he is all I can say is WOW. Didn't think of that scenario coming into play.
I really do love the Pandora's and the roles they play especially Madox who is Tella's Pandora. The way Tella interacts with all of the Pandora's just shows you the character she truly is. She cares for all and has a big heart which you wouldn't have thought that before. It seems being in the Brimstone Bleed is something that makes you grow up a bit more.
The way the ending came about I just have to believe there is a book three I mean it ended to where you are satisfied but you are left wondering what will happen next.
Who will cross the finish line first? Who as a person and as a Pandora will die next?
Want something amazing to read then pick this book and Fire and Flood up soon.
#PBwekendread
Victoria Scott is the author of TITANS (Spring 2016), VIOLET GRENADE (Summer 2017), the FIRE & FLOOD duology, and the DANTE WALKER trilogy. She is published by Scholastic and Entangled Teen, and is represented by Sara Crowe. Two of her novels, SALT & STONE and TITANS, have received starred review, and FIRE & FLOOD was nominated as a YALSA Teens' Top 10 book, and was a Silver Falchion Award nominee. Victoria's novels have been bought and translated in eleven foreign markets. The author lives in Dallas, and loves hearing from readers.