Review: Lair of Dreams (The Diviners #2) by Libba Bray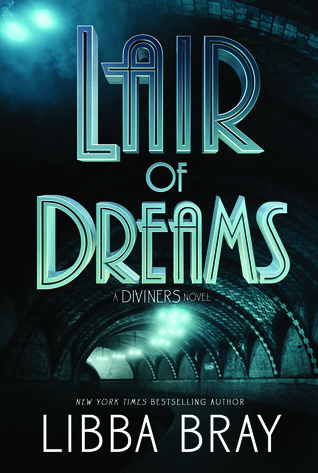 Title: Lair of Dreams (The Diviners #2)
Author: Libba Bray
Publisher: Little, Brown Books for Young readers
Published: Aug. 25, 2015
Pages: 608
Genre: Teen/Ya
Review: ebook provided by NetGalley and publisher
Buy links: Amazon, Amazon.uk, Barnes and Noble
After a supernatural showdown with a serial killer, Evie O'Neill has outed herself as a Diviner. Now that the world knows of her ability to "read" objects, and therefore, read the past, she has become a media darling, earning the title, "America's Sweetheart Seer." But not everyone is so accepting of the Diviners' abilities...
Meanwhile, mysterious deaths have been turning up in the city, victims of an unknown sleeping sickness. Can the Diviners descend into the dreamworld and catch a killer?
I received this book via NetGalley to give an honest review.
So I was very well debating on if I should give this book a 3 rating or 4, it isn't that I didn't like I sorta did but it didn't really call to me too much.
Now when I requested this book on NetGalley the description is what called out to me though I didn't know the book was book two. I would honestly say you may want to read book one as you will get a backstory of the characters and powers. I think I would have done better with understanding everything if I had read book one.
What I liked about the book was the dream walking I think that is the coolest thing ever to be able to do. Ling and Henry are able to go to sleep and walk around in their dreams which eventually leads them to solving what is causing a sickness dubbed the Chinese Sleeping Sickness. The setting of the book is in the 1920's which is a cool era and one I don't believe I read anything in that era before though some of the words were weird to be used such as instead of saying okay it was replaced with "jake"
There is a mystery within the story not only with the sleeping sickness but also with Sam who is trying to figure out what happened to his mother and what is Project Buffalo. I see answers to Sam's questions being answered in a book three if the author continues. It seems all the characters are intertwined in some way or another. Such as Evie knows Jerico, Sam and Theta who is dating Memphis the poet, Theta is best friends with Henry who meets Ling but has a lover named Louis. They all intermingle and what they are seeing and going through come out in each chapter though you are far from confused as it all works out together.
The way the dreamworld came together in the real world was a neat idea, who would have ever thought that you could get stuck in a dream and die? I bet not the folks that went to sleep dreaming happy thoughts.
Why I gave this book a 3 rating it took forever for anything to come together for me. I kept telling myself things would get better at 30% then 40% and so forth and very soon it all came together the mystery in the sickness and how it was solved though it took a bit of time coming to it. It seems we spent a lot of time with Evie and her show and a bit of romance between characters. I enjoyed more of Henry and Ling's part in the story than the other characters. Henry has a great sense of humor and Ling is more a serious person but you can tell she is slowly starting to lighten up around Henry.
I guess I was expecting a bit more of a fast pace story which that falls on me and not the author.
If you enjoy fantasy and the era of the 1920's then I highly recommend this book to you.


What is it about writing an author bio that gives me that deer-in-headlights feeling? It's not exactly like I'm going to say "I was born in Alabama…" and somebody's going to jump up and snarl, "Oh yeah? Prove it!" At least I hope not.
I think what gets me feeling itchy is all that emphasis on the facts of a life, while all the juicy, relevant, human oddity stuff gets left on the cutting room floor. I could tell you the facts–I lived in Texas for most of my life; I live in New York City with my husband and six-year-old son now; I have freckles and a lopsided smile; I'm allergic to penicillin.
But that doesn't really give you much insight into me. That doesn't tell you that I stuck a bead up my nose while watching TV when I was four and thought I'd have to go to the ER and have it cut out. Or that I once sang a punk version of "Que Sera Sera" onstage in New York City. Or that I made everyone call me "Bert" in ninth grade for no reason that I can think of. See what I mean?
God is in the details. So with that in mind, here is my bio. Sort of.

TEN THINGS YOU DON'T KNOW ABOUT ME by Libba Bray
1. I lived in Texas until I was 26 years old, then I moved to New York City with $600.00 in my shoe ('cause muggers won't take it out of your shoe, y'know . . . riiiiight . . .) and a punchbowl (my grandmother's gift) under my arm. I ended up using the punchbowl box as an end table for two years.
2. My dad was a Presbyterian minister. Yes, I am one of those dreaded P.K.s–Preacher's Kids. Be afraid. Be very afraid . . .
3. The first story I ever wrote, in Mrs. McBee's 6th grade English class, was about a girl whose family is kidnapped and held hostage by a murderous lot of bank robbers who intend to kill the whole family–including the dog–until the 12-year-old heroine foils the plot and saves the day. It included colored pencil illustrations of manly-looking, bearded criminals smoking, and, oblivious to the fact that The Beatles had already sort of laid claim to the title, I called my novel, HELP. My mom still has a copy. And when I do something she doesn't like, she threatens to find it.
4. My favorite word is "redemption." I like both its meaning and the sound. My least favorite word is "maybe." "Maybe" is almost always a "no" drawn out in cruel fashion.
5. My three worst habits are overeating, self-doubt, and the frequent use of the "f" word.
6. The three things I like best about myself are my sense of humor, my ability to listen, and my imagination.
7. I have an artificial left eye. I lost my real eye in a car accident when I was eighteen. In fact, I had to have my entire face rebuilt because I smashed it up pretty good. It took six years and thirteen surgeries. However, I did have the pleasure of freezing a plastic eyeball in an ice cube, putting it in a friend's drink, ("Eyeball in your highball?") and watching him freak completely. Okay, so maybe that's not going down on my good karma record. But it sure was fun.
8. In 7th grade, my three best friends and I dressed up as KISS and walked around our neighborhood on Halloween. Man, we were such dorks.
9. I once spent New Year's Eve in a wetsuit. I'd gone to the party in a black dress that was a little too tight (too many holiday cookies) and when I went to sit down, the dress ripped up the back completely. Can we all say, mortified? The problem was, my friends were moving out of their house–everything was packed and on a truck–and there was nothing I could put on . . . but a wetsuit that they still had tacked to the wall. I spent the rest of the party maneuvering through throngs of people feeling like a giant squid.
10. I got married in Florence, Italy. My husband and I were in love but totally broke, so we eloped and got married in Italy, where he was going on a business trip. We had to pull a guy off the street to be our witness. It was incredibly romantic.