Review: All the Rage by Courtney Summers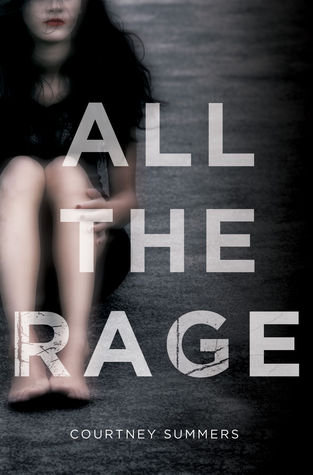 The sheriff's son, Kellan Turner, is not the golden boy everyone thinks he is, and Romy Grey knows that for a fact. Because no one wants to believe a girl from the wrong side of town, the truth about him has cost her everything—friends, family, and her community. Branded a liar and bullied relentlessly by a group of kids she used to hang out with, Romy's only refuge is the diner where she works outside of town. No one knows her name or her past there; she can finally be anonymous. But when a girl with ties to both Romy and Kellan goes missing after a party, and news of him assaulting another girl in a town close by gets out, Romy must decide whether she wants to fight or carry the burden of knowing more girls could get hurt if she doesn't speak up. Nobody believed her the first time—and they certainly won't now — but the cost of her silence might be more than she can bear. 
With a shocking conclusion and writing that will absolutely knock you out,All the Rage examines the shame and silence inflicted upon young women after an act of sexual violence, forcing us to ask ourselves: In a culture that refuses to protect its young girls, how can they survive?

I received this via NetGalley to give an honest review.
Readers beware there is talk of rape in this book. No it is not graphic but it is brought up on more than one occasion.
After reading the blurb I was pretty sure this was going to be one of them good books you always hear about, and I was right.
Now I have never read anything by this author before so she is totally new to me. Once I got past the way of her writing style the story was amazing. You have this young girl Romy who is from the wrong side of town. She is the girl that no one really likes and she doesn't truly fit in with her peers after the events that happened at a party.
The events that happened causes no one to believe her because what was done to her she was asking for according to everyone else, and the person that has hurt her well he is the sheriffs son and he can do no wrong, Romy has kept all this inside of her the best that she can. But we can see that slowly it wears her down.
As the story progresses we go back and forth between what happened then to what is going on now. We see Romy fall for a guy name Leon and even though there are difficulties with this relationship it seems to be because Romy pushes him away so many times. He is the light at the end of the tunnel for her. I liked how Leon didn't give up being there for Romy.
There are a lot of flashbacks and we learn that Romy is bullied and why she is bullied. And she is bullied not only from the girls but from some guys as well. Of course later on Romy starts sticking up for herself and I was impressed with that.
Now, this isn't just a story about Romy and what she went through. She is a part of it but we are introduced to Peggy. Peggy use to be Romy's best friend until everything went down. Now you know Peggy is going to feel bad but she can't really show it in front of everyone. When Peggy ends up missing everyone thinks if the police weren't searching for Romy then Peggy would be home safe. And this makes Romy question herself being found. As we keep reading we find out what really happened to Peggy and everything starts to make sense and end up going wow totally didn't see that coming.
Overall it was a good story. The only things that bothered me with this is
1. Chapters. In the copy I received from NetGalley and I do know that it is an uncorrected version but there seemed to be no chapters. So it was hard to know if I was starting a new chapter or not.
2. Repeating. I have learned how to clean my nails and apply paint more ways then I can count. Yes I understand this is part of the story but sometimes you only need to be told once or twice. Just my thoughts.
Other than those two things I loved this author's way to tell a story and keep you wanting to read more. I plan on looking for more stories from this author to see if her other works are just as good.
COURTNEY SUMMERS was born in Belleville, Ontario in 1986 and currently resides in a small town not far from there. To date, she has authored five novels. Her first novel, Cracked Up to Be, was published when she was 22 and went on to win the 2009 CYBIL award in YA fiction. Since then, she's published three more books–2011 YALSA Top 10 Quick Pick and White Pine Honour book, Some Girls Are, 2012 YALSA Quick Pick, Fall for Anything, and 2013 YALSA Top 10 Quick Pick and White Pine Honour book This is Not a Test. Her next projects are an e-novella, Please Remain Calm (a sequel to This is Not a Test) and a new novel, All the Rage, both out in 2015.

Visit her website or follow her on Twitter or tumblr.
* While I don't have time to share my thoughts on every book I've added to my GoodReads (I wish I did! I love book talk!), please be aware I only add books that I like and recommend to my shelves.