Review: Pretty Little Liars (Pretty Little Liars #1) by Sara Shepard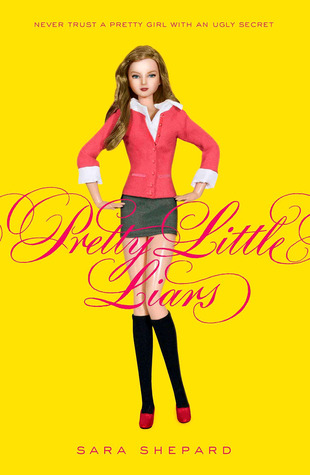 Three years ago, Alison disappeared after a slumber party, not to be seen since. Her friends at the elite Pennsylvania school mourned her, but they also breathed secret sighs of relief. Each of them guarded a secret that only Alison had known. Now they have other dirty little secrets, secrets that could sink them in their gossip-hungry world. When each of them begins receiving anonymous emails and text messages, panic sets in. Are they being betrayed by some one in their circle? Worse yet: Is Alison back? A strong launch for a suspenseful series.

Man it has been a while since I have been able to "personal" read a book.
I have been watching this show since the beginning and I am so far into it that I want to know who A is. Yes I am an impatient person.
I got this book from my library and I was eager to start it. I did ask myself is this book going to be close to the show? Or is it going to be totally different and I have put my mind into a different mind set.
I have to say I was impressed with the book, the writing was strong and kept me wanting to read more.
It all starts the summer after seventh grade Ali or Allison has disappeared and the girls Spencer, Emily, Aria, and Hannah have gone their separate ways. With this story it is pretty quick with Allison coming up missing you honestly wouldn't know that all five girls were friends if you weren't told and had a small touch of the background.
Once all the girls are back in Rosewood or at least the ones that left that is when their past comes back to haunt them. As we all know that things that happen in the past always comes back to us in some way. The girls barely talk to each other but yet they all get a text message which ends up bringing them together. How no one in the town questions the bullying of Ali is beyond me. Maybe because she is considered "sweet and pretty" everyone looks passed her antics of being ugly to others.
All the characters were written to where I could imagine them in my head and I liked that. They each have their own personality and so it was not hard to keep them a part.
Now I have to say in this book I felt as though Spencer was a slut yes I said it. Because who in their right mind messes around with another person's man just have to throw that out there.
The story line flowed together nicely and I enjoyed the different P.O.V.'s from the characters. I want to read more of this series so I can just find out who A is. That is my main goal of reading this series.
Sara Shepard graduated from NYU and has an MFA from Brooklyn College. She currently lives in Tucson, Arizona. Sara's Pretty Little Liars novels were inspired by her upbringing in Philadelphia's Main Line.