Review: MARY: The Summoning (Bloody Mary #1) by Hillary Monahan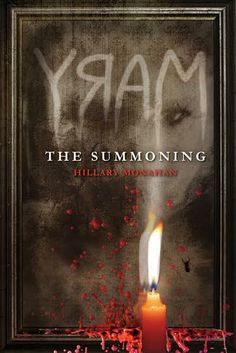 There is a right way and a wrong way to summon her. Jess had done the research. Success requires precision: a dark room, a mirror, a candle, salt, and four teenage girls. Each of them--Jess, Shauna, Kitty, and Anna--must link hands, follow the rules . . . and never let go.
A thrilling fear spins around the room the first time Jess calls her name: "Bloody Mary. Bloody Mary. BLOODY MARY." A ripple of terror follows when a shadowy silhouette emerges through the fog, a specter trapped behind the mirror.
Once is not enough, though--at least not for Jess. Mary is called again. And again. But when their summoning circle is broken, Bloody Mary slips through the glass with a taste for revenge on her lips. As the girls struggle to escape Mary's wrath, loyalties are questioned, friendships are torn apart, and lives are forever altered.
A haunting trail of clues leads Shauna on a desperate search to uncover the legacy of Mary Worth. What she finds will change everything, but will it be enough to stop Mary--and Jess--before it's too late?

I received this book via NetGalley to give an honest review.
At first reading this book I didn't think it would be that scary as it didn't seem that way to me. But as I read further along it actually made me want to cover all my mirrors in the house. I remember when I was a kid and did the whole calling of "Bloody Mary" but of course when nothing happened I felt a bit sad that it didn't work. Now I am glad it never worked because I don't think I could handle the haunting of Mary.
This is a book I would recommend for the ages 12 and up being as it is hardly scary, not a lot of gruesome details just enough to make you squeamish. Bloody Mary takes place when four teenage girls summon Mary not once but twice and that is when it starts getting good. The four teenagers don't quite realize the hell they have opened up for themselves. And when one of them is picked out by Mary herself well her life is no longer the good one that she had. Mary wants Shauna and it doesn't matter the cost. Now Jess is one who wanted to bring forth Mary and later on when reading the book there seems to be more to than just summoning Mary that Jess has in mind. The ending wasn't a huge cliff hanger like most stories but it is a cliff hanger to where you will want to get the next book to see if Mary can be stopped or will she succeed with getting the person she wants. I also want to know more of Mary's background, such as how she became known as Blood Mary. I though that was quite interesting with the letters that were being sent from Mary to her sister.
The reason this book is getting a 4 rating is because when Shauna gets hurt, and it seems like she got hurt pretty badly. Her mother doesn't really seem to notice. I mean she knows something is off with her daughter which is good but I am surprised she doesn't notice maybe bloody clothes? Or the fact that when she touched her daughter she flinched. I know it is a minor detail but it just bothered me a bit.
If you are looking for a good down to earth classic semi-horror story built on the legend of Bloody Mary then this is one I would recommend for all to read and even a good read for the teenagers as it is clean.
Hillary Monahan is Eva Darrows is also an international woman of mystery. Holed up in Massachusetts with three smelly basset hounds, she writes funny, creepy things for fun and profit.