Review: My Name by Bonnie Bernard and Doug Skinner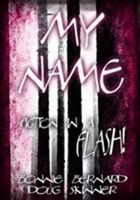 A very short, twisted adventure through a culture of decay.
What can I say, this author has a sense of humor and it shows in her writing. The short story started off great, and when I got to the end I had to go back and re-read to make sure I didn't understood what happened. Even though it was twisted and humorous I have to give the book a 4 1/2 wine glass rating being as it was too short to write anything else for the review. The ending will have you laughing out loud when you realize who the family is. :)

Bonnie Bernard is the alter ego of a fiery redhead who lives in the Rocky Mountains with her husband, Doug. They share their old haunted home with a mutt named Gilligan and a pair of cats - Exmo and Sponge.


Bonnie likes to write paranormal/weird fiction, play outside, make a difference in the world, and eat obsessive amounts of dark chocolate. She is a two-time demolition derby champion, a doggy foster mom, and paid her way through college by clowning around.
Rest Inn Peace is her fifth book. It's like tattoos. She couldn't stop at just one.