NetGalley Review: The Bone Witch (The Bone Witch #1) by: Rin Chupeco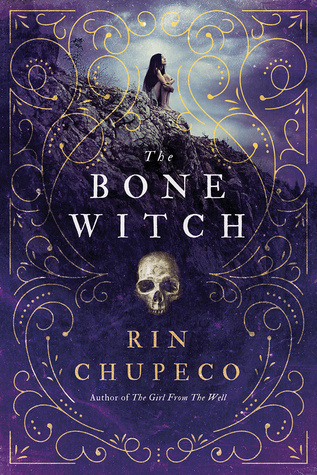 Title: The Bone Witch
Author: Rin Chupeco
Published: March 7, 2017
Publisher: Sourcebooks Fire
Pages: 400
Genre: Teen, YA, Fantasy
Review: ebook provided by NetGalley and publisher
Buy Links:
Amazon
,
Amazon.uk
When Tea accidentally resurrects her brother from the dead, she learns she is different from the other witches in her family. Her gift for necromancy means that she's a bone witch, a title that makes her feared and ostracized by her community. But Tea finds solace and guidance with an older, wiser bone witch, who takes Tea and her brother to another land for training.
In her new home, Tea puts all her energy into becoming an asha — one who can wield elemental magic. But dark forces are approaching quickly, and in the face of danger, Tea will have to overcome her obstacles…and make a powerful choice.
Memoirs of a Geisha meets The Name of the Wind in this brilliant new fantasy series by Rin Chupeco!
I received this book via NetGalley to give an honest review.
First off let me say the cover is AWESOME looking. Love the purple and it just overall stands out.
So I am not too big on fantasy books just because sometimes the worlds that are created either do not appeal too me or they just seem way too far fetch for my liking. When I saw this author's name I wanted to give her a chance on this book because I have read her other work and loved the books she wrote.
The author has an amazing way with describing things in this story from the huas that the asha's wear. You can just see the bright colors and design that is within the descriptions. Another neat thing was the Runes that are drawn in the air. I could literally see them being written and the detail that they were given. Another neat thing was the heart glasses that play a huge part in this world that has been created.
We follow Tea as she has become a bone witch something that is feared among the many villages and villagers. Though it seems that Tea is able to learn at a fast pace which is really neat, we see how she grows over a small time period and how she thinks of others even when putting herself in danger.
Now there is not much fighting and I think that is because Tea is having to learn about the Dark that she has because of who she is. So I am hoping that maybe in the next book we see what Tea can really do. I really liked the twist that came when figuring out who the Faceless is and we get that towards the end of the story, I can honestly say I was not expecting that.
As far as characters go I liked all of them they were special and unique in their own way and really stood out. Though I would have liked to see what had become of Likh who we learn isn't like a lot of other males especially the Deathseekers.
I have to say my favorite character is Polaire her quick and witty responses were awesome.
I can't wait to read the next book when this author has it coming out.
Despite an unsettling resemblance to Japanese revenants, Rin always maintains her sense of hummus. Born and raised in Manila, Philippines, she keeps four pets: a dog, two birds, and a husband. Dances like the neighbors are watching.
She is represented by Rebecca Podos of the Helen Rees Agency. She is also fond of speaking in the third person, and may as well finish this short bio in this manner. While she does not always get to check her Goodreads page, she
does
answer questions posed to her here as promptly as she is able to.
Twitter:
@rinchupeco
Pinterest:
Rin Chupeco
Blog:
rinchupeco.com