Review: Midnight Crossroad (Midnight, Texas #1) by Charlaine Harris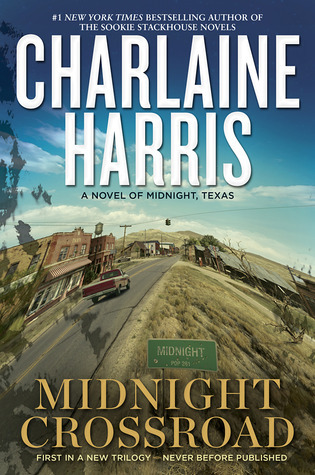 Title: Midnight Crossroad (Midnight, Texas #1)
Author: Charlaine Harris
Published: May 6, 2014
Publisher: Ace
Pages: 320
Genre: Paranormal, Urban Fantasy
Review: library ebook
Buy Links:
Amazon
,
Amazon.uk
Welcome to Midnight, Texas, a town with many boarded-up windows and few full-time inhabitants, located at the crossing of Witch Light Road and Davy Road. It's a pretty standard dried-up western town.
There's a pawnshop (someone lives in the basement and is seen only at night). There's a diner (people who are just passing through tend not to linger). And there's new resident Manfred Bernardo, who thinks he's found the perfect place to work in private (and who has secrets of his own).
Stop at the one traffic light in town, and everything looks normal. Stay awhile, and learn the truth...
So when I read book two last year and I enjoyed it I was excited to see that my library had book one in. I jumped on the chance to read about Midnight from the beginning. In this book we are introduced to the characters that make up Midnight. A small town in Texas with just one stop light.
I really liked how the characters all had a secret about them so it made it more of a supernatural mystery. Though I wish we got more backstory to them and what drew them to Midnight. Especially being as there is a handful of businesses but there isn't a lot of traffic that should keep them going.
So as far as characters I think that Olivia really has me intrigued only because she can handle getting rid of a body with ease. Like oh I can get rid of him, let me throw him over my shoulder.
Now Fiji I was in the air with her. I wanted to like her but she had a lot going on with herself. She likes Bobo but he is really just a good friend. She really was not a character I truly enjoyed.
As not only are we being introduced to all that live in Midnight, we also have a mystery of Bobo's girl who has gone missing. Bobo is a mess when he thinks about her. So when a body is found Bobo's past comes to the present and everyone in Midnight comes together to solve this mystery.
The plot was steady nothing too fast and there isn't a whole lot of action. Just enough to wet your whistle and that is all.
If you like small town books, characters who are of the supernatural and have secrets then I say hey pick this up.


Charlaine Harris has been a published novelist for over twenty-five years. A native of the Mississippi Delta, she grew up in the middle of a cotton field. Now she lives in southern Arkansas with her husband, her three children, three dogs, and a duck. The duck stays outside.
Though her early output consisted largely of ghost stories, by the time she hit college (Rhodes, in Memphis) Charlaine was writing poetry and plays. After holding down some low-level jobs, she had the opportunity to stay home and write, and the resulting two stand-alones were published by Houghton Mifflin. After a child-producing sabbatical, Charlaine latched on to the trend of writing mystery series, and soon had her own traditional books about a Georgia librarian, Aurora Teagarden. Her first Teagarden, Real Murders, garnered an Agatha nomination.
Soon Charlaine was looking for another challenge, and the result was the much darker Lily Bard series. The books, set in Shakespeare, Arkansas, feature a heroine who has survived a terrible attack and is learning to live with its consequences.

When Charlaine began to realize that neither of those series was ever going to set the literary world on fire, she regrouped and decided to write the book she'd always wanted to write. Not a traditional mystery, nor yet pure science fiction or romance, Dead Until Dark broke genre boundaries to appeal to a wide audience of people who just enjoy a good adventure. Each subsequent book about Sookie Stackhouse, telepathic Louisiana barmaid and friend to vampires, werewolves, and various other odd creatures, has drawn more readers. The Southern Vampire books are published in Japan, Great Britain, Greece, Germany, Thailand, Spain, France, and Russia.
In addition to Sookie, Charlaine has another heroine with a strange ability. Harper Connelly, lightning-struck and strange, can find corpses… and that's how she makes her living.
In addition to her work as a writer, Charlaine is the past senior warden of St. James Episcopal Church, a board member of Mystery Writers of America, a past board member of Sisters in Crime, a member of the American Crime Writers League, and past president of the Arkansas Mystery Writers Alliance. She spends her "spare" time reading, watching her daughter play sports, traveling, and going to the movies.