Review: The Outsiders by S.E. Hinton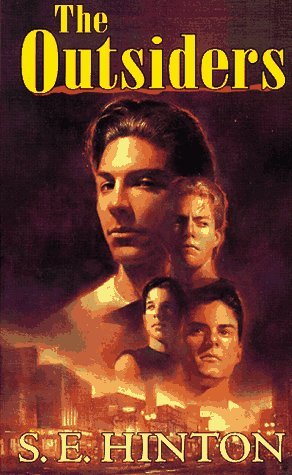 Title: The Outsiders
Author: S.E. Hinton
Published: Sept. 1, 1988
Publisher: Speak
Pages: 188
Genre: Teens, YA, Classic
Review: Library book
Buy Links:
Amazon
,
Amazon.uk
According to Ponyboy, there are two kinds of people in the world: greasers and socs. A soc (short for "social") has money, can get away with just about anything, and has an attitude longer than a limousine. A greaser, on the other hand, always lives on the outside and needs to watch his back. Ponyboy is a greaser, and he's always been proud of it, even willing to rumble against a gang of socs for the sake of his fellow greasers--until one terrible night when his friend Johnny kills a soc. The murder gets under Ponyboy's skin, causing his bifurcated world to crumble and teaching him that pain feels the same whether a soc or a greaser.
I want to know why I was never required to read this book in school? It is freaking amazing!
Another blogger friend of mine posted about her copy of The Outsiders and it intrigued me. Then I asked my husband about the book and he said he read it and it was awesome. So I knew I had to give this book a shot. I am so glad I did. I fell in love with Ponyboy and what he was going through.
We have the greasers and the socs. They live on opposites of town and can not stand each other. They all fight to fight but in reality they are just the same.
One night changes everything in Ponyboy's world and we see how he changes. You can tell that the greasers are a family and will be there for each other and take of one another.
I love the family dynamics that is within Ponyboy's family. His brothers want the best for him and that is awesome.
The characters are unique and memorable. This book was not hard to read and understand it was simple. I think I need to own this book just because. I think I will be finding myself reading it again. This is one story that should still be required to read!


S.E. Hinton, was and still is, one of the most popular and best known writers of young adult fiction. Her books have been taught in some schools, and banned from others. Her novels changed the way people look at young adult literature.
Susan Eloise Hinton was born in Tulsa, Oklahoma. She has always enjoyed reading but wasn't satisfied with the literature that was being written for young adults, which influenced her to write novels like The Outsiders. That book, her first novel, was published in 1967 by Viking