#PBwkendread Review: Asylum (Asylum #1) by Madeleine Roux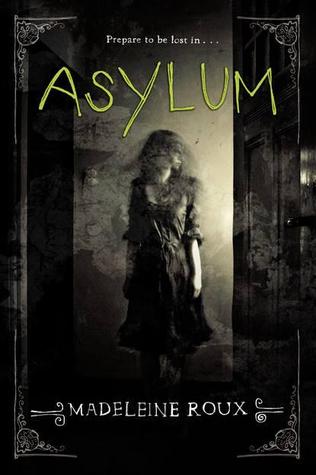 Title: Asylum (Asylum #1)
Author: Madeleine Roux
Publisher: HaperTeen
Published: Aug. 20, 2013
Pages: 310
Genre: Teen, Mystery, YA, Paranormal
Review: library book
Buy Links:
Amazon
,
Amazon.uk
For sixteen-year-old Dan Crawford, New Hampshire College Prep is more than a summer program—it's a lifeline. An outcast at his high school, Dan is excited to finally make some friends in his last summer before college. But when he arrives at the program, Dan learns that his dorm for the summer used to be a sanatorium, more commonly known as an asylum. And not just any asylum—a last resort for the criminally insane.
As Dan and his new friends, Abby and Jordan, explore the hidden recesses of their creepy summer home, they soon discover it's no coincidence that the three of them ended up here. Because the asylum holds the key to a terrifying past. And there are some secrets that refuse to stay buried.
Featuring found photos of unsettling history and real abandoned asylums and filled with chilling mystery and page-turning suspense, Madeleine Roux's teen debut, Asylum, is a horror story that treads the line between genius and insanity.

So once again my librarian has recommend a read.
I have to say this was a pretty darn good book even though at times I was questioning the way characters would act.
The background within this school for College Prep is awesome. Turning an asylum into a place of learning just screams ghosts will be haunting the halls or so you would think.
I really loved how everything was all intertwined with the main characters that was really neat. I really liked the background of the asylum and the mystery to it.
When Dan starts school at New Hampshire College Prep he isn't expecting to anything but doing the summer program. So when himself along with his new friends Abby and Jordan start nosing around there seems to be something more within the walls of this school, but what is it exactly?
I really enjoyed the pictures that were within the story I found myself at times a bit creeped out when I wasn't expecting them.
Now the way the characters would interact with each other at times didn't feel normal it is quite hard to explain fully. There was one issue I had where all three are upset with each other and then Abby makes the reply to Dan "I guess I can stop pretending to be mad at you." What I didn't understand is why she was pretending? It made no sense.
They also did not act like normal teens it felt at times that they were younger but maybe that was the way the author wanted it. I am not sure. I do want to read book two in this series to see what else is going to go on.
I didn't feel this book to be really scary in any sense maybe more mysterious but that was it.
Author of Allison Hewitt Is Trapped, Sadie Walker Is Stranded and the upcoming ASYLUM.
MADELEINE ROUX received her BA in Creative Writing and Acting from Beloit College in 2008. In the spring of 2009, Madeleine completed an Honors Term at Beloit College, proposing, writing and presenting a full-length historical fiction novel. Shortly after, she began the experimental fiction blog Allison Hewitt Is Trapped. Allison Hewitt Is Trapped quickly spread throughout the blogosphere, bringing a unique serial fiction experience to readers.
Born in Minnesota, she now lives and works in Louisiana.