#PBwkendread: Salt and Stone by Victoria Stone
Guess what it is the WEEKEND!!!! Well it is the day before the weekend but for me it is the weekend lol.
When my librarian told me to read the first one Fire and Flood I finished that sucker quickly just so I could get ready to start Salt and Stone. If you have not read Fire and Flood you HAVE to read it. The story line is amazing and where it lives off you will want to get book two so you can know what will happen next. I will probably have Salt and Stone finished by tonight if I don't have a lot of interruptions.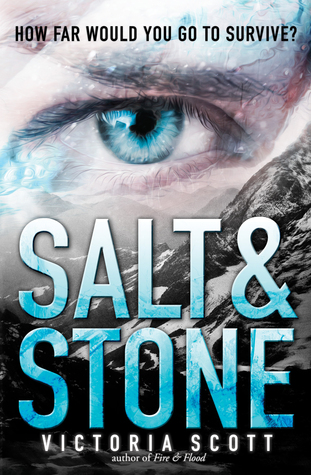 What would you do to save someone you love? What about risking...everything?
In Fire & Flood, Tella Holloway faced a dangerous trek through the jungle and a terrifying march across the desert, all to remain a Contender in the Brimstone Bleed for a chance at obtaining the Cure for her brother. She can't stop—and in Salt & Stone, Tella will have to face the unseen dangers of the ocean, the breathless cold of a mountain, and the twisted new rules in the race.
But what if the danger is deeper than that? How do you know who to trust when everyone's keeping secrets? What do you do when the person you've relied on most suddenly isn't there for support? How do you weigh one life against another?
The race is coming to an end, and Tella is running out of time, resources, and strength. At the beginning of the race there were 122 Contenders. As Tella and her remaining friends start the fourth and final part of the race, just forty-one are left...and only one can win.