Review: The Sham by Ellen Allen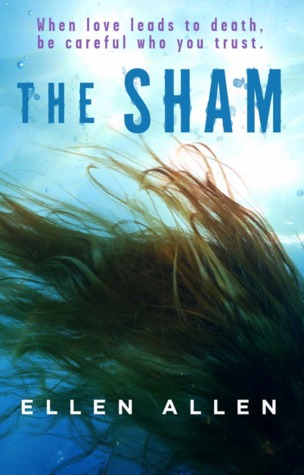 When love leads to death, be careful who you trust…
Eighteen-year-old Emily Heath would love to leave her dead-end town, known locally as "The Sham", with her boyfriend, Jack, but he's very, very sick; his body is failing and his brain is shutting down. He's also in hiding, under suspicion of murder. Six months' ago, strange signs were painted across town in a dialect no one has spoken for decades and one of Emily's classmates washed up in the local floods.
Emily has never trusted her instincts and now they're pulling her towards Jack, who the police think is a sham himself, someone else entirely. As the town wakes to discover new signs plastered across its walls, Emily must decide who and what she trusts, and fast: local vigilantes are hunting Jack; the floods, the police, and her parents are blocking her path; and the town doesn't need another dead body.



WARNING: THIS BOOK IS UNSUITABLE FOR YOUNGER TEENAGE READERS. IT DEPICTS ADULT SITUATIONS, MURDER SCENES, CONVERSATIONS ABOUT SEX AND PROFANITY.

NOTE FROM THE AUTHOR: The idea for this book came to me in a nightmare... It was so vivid that I imagined I was 17 again, at school, in the same group of 4 friends that I used to hang around with. We were involved in a murder and cover-up. I started writing partly as a way to get it out of my head and then the characters turned into real people... and Emily and Jack were born.

As some of the early reviewers have stated, it is quite extreme in chapter one, and necessarily so. This is the incident that sets up the whole book; something awful happens that sets off a train of events for the characters. This book is a mystery in two ways in that we're: 1) trying to find out who killed Emily's classmate; and 2) trying to work out who Jack is. I hope you enjoy it!
I received this book via NetGalley to give an honest review.
I don't even know what to think about this book. I read the blurb and was thinking this was going to be a great book to read. Boy was I wrong. I literally was completely confused from the get-go. Mostly what I got from it was there is a group of girls that like to pick and bully on people and they end up dying and there is a guy who is on the list of suspects.
There is a young guy named Jack who is new in town and he is weird and everyone thinks he is committing the crimes, he also has feelings for Emily.
Then there is Emily who finds herself in the middle of it all and she doesn't know who to believe. But she really likes Jack.
Now when I first started reading this I thought okay this will have to be at least decent, but the talking that was going on between characters in the story line I just found it to be confusing and not what I was hoping for. With that being said I also had some problems with some scenes, I felt that they just seemed to unreal. Such as the boy that is bullied has a broken bone in his neck area but then he can run? I think if it was me I would have been laying on the ground withering in pain.
I truly never even got who Jack really was until the end and then it was like okay that could make sense. Just the way he acted seemed way off from the diagnostic that was given in the story. His body is breaking down, to me that sounds like he has a disease or something. But we got more in depth with who Jack was through out the whole story. It is like we got bits and pieces then BAM! At the end it all comes together on who he is.
Emily just seemed very weird I could not relate to her in any way. She was befriended by Jack only to be lied to and put into the middle of a police investigation. But I didn't get to really know who Emily was. There was no depth to her like there was with Jack.
So the story starts off with a gruesome scene one that will make people cringe, Emily's reaction didn't seem real. If I saw someone bullying someone else I would probably go crazy she didn't hardly do anything just started talking about math things.
After the first opening part the whole thing seems to go down hill. There is no growth to the story, no character building. The only mystery is who killed the girls? And when we find out who that was it was like oh snap didn't even see that coming.
The author gets a point for a cool cover, and another point for the gruesome scene in the beginning that had me cringing.
12/12/14 - My new contemporary YA thriller, The Sham, is currently free and available to read for review on netgalley.com. For a limited time only!
I've loved reading ever since I was tiny and discovered Enid Blyton in a corner of my classroom - The Magic Faraway Tree, anyone?
I'm author of indie YA novel The Sham, an avid reader, a wild swimmer, and collector of writing titbits and all things bookish. Find me at
www.writingright.net
and
www.twitter.com/EllenWritesAll
I live in the south of France with my small daughter and would, one day, like to be able to master the French subjunctive.