Review: My Forever (Infinite Love #1) by Kira Adams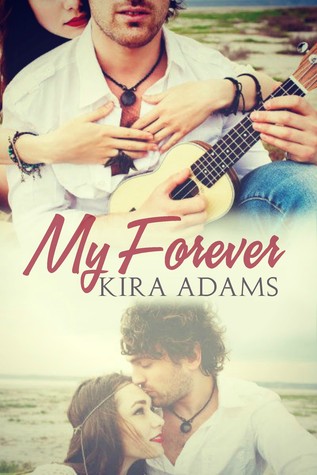 Grief and loss can make a person act out in all the worst kinds of ways. Madalynne Johnson has always been a bit of a handful, but with the loss of her brother, separation of her parents, and her boyfriends unexpected news of joining the army she has gone into a full on tailspin.

Parker Grant experienced loss firsthand when his brother took his own life. Darkness closed in. Madalynne saved him; showed him the light. And even though he isn't sure what the future holds--he wants Madalynne and this time he won't give up without a fight.

I received this book to give an honest review.
What do I write? Do I write what I enjoyed first, or do I write what bothered me a bit with the book? This is something that is hard for me to do.
I guess I will go with what I did enjoy. I liked the love that Parker and Madalynne had for each other. Even at such a young age they believe to be soul mates. I have to say that I thought it was amazing that Madalynne was saving herself for Parker but at just the right time. I thought that Parker was a gentleman for not pushing her to have sex. He knew when she was ready he would be too. They are totally inseparable, they both have tragic deaths that are close to each other. We see that Madalynne attempts to not let Parker fall into the dark after his brother's death and then vice versa with Madalynne's brother.
It is like a love story where two characters want to be together but they may need to be apart to know that they are meant to be.
I liked how we were able to go between Madalynne P.O.V. and Parker's. We do have other characters thrown in there towards the end but they do play a part in both of the main characters lives.
Madalynne was a character that I enjoyed but then I wanted to smack her for the way she seemed to act at times. Especially during the party scenes that came about. I couldn't seem to relate to her at all. She didn't know what to do with her life, but yet she wants to spend the rest of her life with Parker which I get that. But she never seems honest to be honest with herself or Parker with what she wants to do. She seems like to beat around the bush on everything. She seems to take Parker for granted.
Parker on the other hand in a way knows what he wants to do. He is a good guy and no matter what Madallynne puts him through he is determine to be with her. To fight for her, it is one of those things that you wonder if the guy is crazy or just in love.
I did enjoy the book but while reading I kept wondering about the jumps within the story line. And by jumps I mean and this is one prime example (and there are more) because I remembered I made a note of it, Madalynne and Parker are getting really hot and Parker's uncle stops by. It is just left there, then we are in another scene where Parker is helping his father with the car.
I literally went back to re-read did I maybe miss something? What was the point of his uncle stopping by? This was left unanswered.
I felt the author was having it all come together but didn't think about the switching from here to there. Past to present almost.
There were some conflicting moments. One of them being as Lee mentions one time he is not the relationship type person. Then a little while later it says "We had talked a few times about him not being ready for relationships." I am wondering where they talked about this at, because I only assumed it was one time when both Lee and Madalynne were in an awkward position.
I would think this book would be suitable for the older ages of maybe 17 on up. There isn't graphic parts just a whole lot of two teenagers being hot and bothered. I do want to read book two to see if Parker and Madalynne will be staying together, and what is going to happen to the other characters that made an appearance in both of the characters lives. I do hope book two is a bit more better than this one.
Krista Pakseresht has always been a dreamer. From the first time she opened her eyes. Creating worlds through words is one thing she is truly talented at. She specializes in Young adult/New adult romance, horror, action, fantasy, and non-fiction under the pen name Kira Adams.
She is the author of the Infinite Love series, the Foundation series, the Darkness Falls series, and the Looking Glass series.
https://www.facebook.com/KiraAdamsauthorhttp://www.wattpad.com/user/xKiraAdamsxhttp://figment.com/users/375251-Krist...http://www.amazon.com/My-Forever-Infi...http://www.amazon.com/dp/B00KTDGLTW