Review: The Animal Within (Otherworldly Prophecies #2) by Natasha Ann Wetzel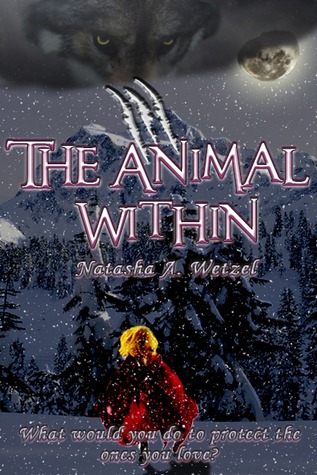 The never ending vacation of a powerful but lazy shifter, Convel, is put on hold when unwanted responsibility is forced into his lap instead of the women he is accustomed to. Laws are being broken that threaten the entire community and it is up to him to end it before his people are ended instead. What starts as an annoying chore will grow into an adventure that will test him to his very core. And in the end it may just be a decision in one single moment that awakens the animal within.
I received this book to give an honest review.
This is book two after Starving Blades, but I would totally read this as a stand-alone. With that being said, my two favorite characters are in this book. Convel and Ashley. Convel is still cocky, unattached and I am loving it all.
With The Animal Within we are taken into the life of Convel and his clan of werewolves. Convel is thrown into having to actually help out his best friend and his clan even though he is lazy and doesn't want to. There are new characters introduced with this story, but one of them OMG I literally wanted to smack the girl upside the head. I am surprised Natasha didn't do it. She held more restraint than I would have literally thought she would.
Now with Convel going through with problems happening within his clan we also have Natasha going through something personal with her boyfriend. And it ends up affecting them all.
Now in book one Starving Blades I could see there was an electric spark between Convel and Natasha that they couldn't see. So in this one I kept telling myself oh these two have GOT TO GET TOGETHER!!! And now the ending has me wondering is there a book three because ummm I need some answers about what is going on.
I want more of this magical world and the characters.
The reason I am giving this book 4 stars and not a solid 5 like I was hoping to do is for the errors that were within the book.
Now I am far from being perfect with grammar. But there were words capitalized when they shouldn't have been along with words that need to be capitalized that were not. Commas should have been put into some obvious places. Just as well as the wrong name being used when talking about someone else.
Natasha is a a mother of two precious girls and married to the man of her dreams. She lives with her husband, children and fuzzy son (A Rotty/Pitt mix, named Lore.)in a small town of North Carolina. She enjoys good cups of tea and strong cups of coffee and playing with her kids and dog out in the sun.
After being born and raised for the first five years of her life in Frankfurt, Germany, Natasha then moved to the states with her family. (Mother, father and two brothers.) She was raised on a military base and lived to play out doors, or sit in front of a television on Saturday mornings. Throughout Natasha's life, she has had a love for stories. Whether they were movies, cartoons, made up by a friend or written in a book.

After many years of scribbling away on endless piles of notebooks and papers, she decided to take a break from poetry and musings to write a full book. As the task went on, she found countless stories begging to be told. Everything from YA to Sci-fi and more. She writes the Otherworldly Prophecies series and continues to write additional stand alone novels between the O.P. series release dates.

In the winter of 2013, Natasha partnered up with author Michael Loring to start a community for aspiring and seasoned authors. Stand Alone Authors quickly grew and became a major hit in the indie community as a "one stop shop" for authors of every kind. In the spring of 2014, they expanded into a YouTube channel. Their host, Andrew Ginier, talks about many things that authors may face on their writing and publishing journey.

Natasha hopes to only grow in her writing and in the community that she has created for independent authors. She loves the people that she has come to know from being an independent author. Often she says, she wouldn't trade it for the world. She's a writer, she's a reader and she's a supermom!
Her community webpage: www.StandAloneAuthors.webs.com
For more information or just to stay tuned with her, follow Natasha on facebook at, www.facebook.com/NatashaWetzelAuthor
or become a fan on goodreads!
Happy reading!