Wonder (Wonder #1) by R.J. Palacio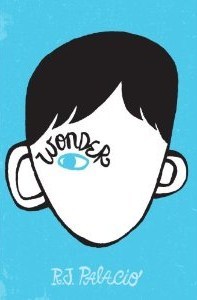 Title: Wonder (Wonder #1)
Author: R.J. Palacio
Published: Feb. 14, 2012
Publisher: KNOPF Books for Young Readers
Pages: 320
Genre: Children's Grades 3 on up
Review: Library book
I won't describe what I look like. Whatever you're thinking, it's probably worse.

August Pullman was born with a facial difference that, up until now, has prevented him from going to a mainstream school. Starting 5th grade at Beecher Prep, he wants nothing more than to be treated as an ordinary kid—but his new classmates can't get past Auggie's extraordinary face. WONDER, now a #1 New York Times bestseller and included on the Texas Bluebonnet Award master list, begins from Auggie's point of view, but soon switches to include his classmates, his sister, her boyfriend, and others. These perspectives converge in a portrait of one community's struggle with empathy, compassion, and acceptance.

"Wonder is the best kids' book of the year," said Emily Bazelon, senior editor at Slate.com and author of Sticks and Stones: Defeating the Culture of Bullying and Rediscovering the Power of Character and Empathy. In a world where bullying among young people is an epidemic, this is a refreshing new narrative full of heart and hope. R.J. Palacio has called her debut novel "a meditation on kindness" —indeed, every reader will come away with a greater appreciation for the simple courage of friendship. Auggie is a hero to root for, a diamond in the rough who proves that you can't blend in when you were born to stand out.

Join the conversation: #thewonderofwonder
I saw this was coming out as a movie though it was from a book. So, of course, the reader in me was like girl you better just read the book before you watch this movie. I am so very glad I did.
I didn't cry until I got towards the end with the awards, to me that was everything. It wasn't sadness I cried but joy because Auggie is a remarkable child one that he knows the world is mean but tries not to let it bother him though it does.
We get different chapters from August, Olivia, Jack, Miranda, Summer, and Justin. Though Justin's part in the book bothered me because of the grammar. Words were not capital and the grammar was not there.
Though out the book I loved the strength and courage that August had. Even when people said mean things or whispered about him he still showed courage to ignore them, even though I know it hurts. I really loved Mr. Browne's precepts that he writes on the board every month. Each one has a deep meaning, but the one that gets me and sticks out is September's. "When given the choice between being right or being kind, choose kind." -Dr. Wayne W. Dyer this speaks volumes with just a few words.
Within this story, we see how August's family handles how he believes himself to be different even though he is just a normal child. They love him unconditionally and he forms friendships because he is simply an amazing, funny 5th grader.
Honestly, I am not sure how to write this review without giving anything away. The book was simply amazing it left me feeling raw, emotional, happy. I could feel through the words how strong of a person Auggie was! Not a lot of people are as strong or courageous as he is in the real world. Auggie you really are a wonder!
R.J. Palacio lives in NYC with her husband, two sons, and two dogs. For more than twenty years, she was an art director and graphic designer, designing book jackets for other people while waiting for the perfect time in her life to start writing her own novel. But one day several years ago, a chance encounter with an extraordinary child in front of an ice cream store made R. J. realize that the perfect time to write that novel had finally come. Wonder is her first novel. She did not design the cover, but she sure does love it.
Raquel J. Palacio / R. J. Palacio is a pseudonym of: Raquel Jaramillo.