NetGalley Review: The Border by Steve Schafer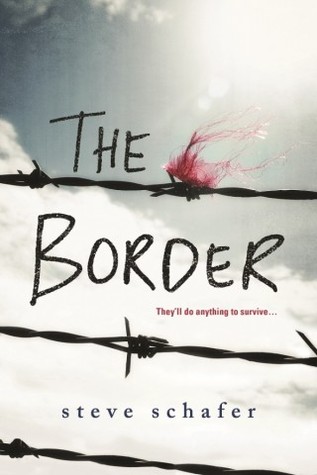 Title: The Border
Author: Steve Schafer
Published: Sept. 5, 2017
Publisher: Sourcebooks Fire
Pages: 364
Genre: Teens, YA
Review: ARC received by NetGalley and Publisher
One moment changed their lives forever.
A band plays, glasses clink, and four teens sneak into the Mexican desert, the hum of celebration receding behind them.
Crack. Crack. Crack.
Not fireworks―gunshots. The music stops. And Pato, Arbo, Marcos, and Gladys are powerless as the lives they once knew are taken from them.
Then they are seen by the gunmen. They run. Except they have nowhere to go. The narcos responsible for their families' murders have put out a reward for the teens' capture. Staying in Mexico is certain death, but attempting to cross the border through an unforgiving desert may be as deadly as the secrets they are trying to escape...
I received this book to give an honest review.
What a page turner for me. We always hear how hard it is for people to cross into the United States but to have it told in a story it felt different, more raw and I liked that. Four kids have their lives changed when gunmen kill at a party. We see how they learn to come together but yet still fight for their lives while trying to get across the border. Nothing will be easy and heartache will ensue. They will encounter harsh conditions and death. This book was not like anything I have read before and I enjoyed that. The characters felt real and when put into certain situations I felt that they handled it like they were suppose to. The whole scene with the vultures was like nothing I have seen described and I felt it went where it needed to in the story.
There was one scene where Pato and Arbo are in the desert and Pato thinks about the only way to cool Arbo down.
Well this leads to later on everyone joking with Pato which actually had me laughing and just shaking my head, because well you will do anything to make sure your friend lives.
Another part in the book I really liked was when Pato and Arbo are talking about water and the taste. They are questioning why water doesn't taste like anything unlike everything else we put in our mouth. "You can't describe water, and it's the one think we need the most. Why not give it flavor?" This really gets you thinking about that!
Overall this book was amazing and a real eye opener to the illegal immigration that goes on and the depths of what people will do to get out of the country they are in., especially when they are running away from something terrible.
Steve Schafer has a Masters in International Studies from the Lauder Institute at the University of Pennsylvania and an MBA from Wharton. He grew up in Houston and has since had the privilege to live, work, volunteer, and travel internationally. The bulk of this experience has been in Latin America. His debut novel, The Border, was acquired by Sourcebooks Fire imprint and will be released September 5th, 2017. Steve lives near Philadelphia with his wife and two kids.