#PBwkendread Review: Mockingjay (The Hunger Games #3) by Suzanne Collins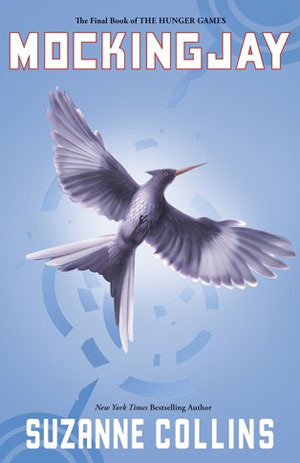 Title: Mockingjay (The Hunger Games #3)
Author: Suzanne Collins
Publisher: Scholastic Press
Published: Aug. 24, 2010
Pages: 392
Genre: Teen/YA/ Post-Apocalyptic
Review: hardback
Buy Links:
Amazon,
Amazon.uk
My name is Katniss Everdeen.

Why am I not dead?

I should be dead.

Katniss Everdeen, girl on fire, has survived, even though her home has been destroyed. Gale has escaped. Katniss's family is safe. Peeta has been captured by the Capitol. District 13 really does exist. There are rebels. There are new leaders. A revolution is unfolding.
It is by design that Katniss was rescued from the arena in the cruel and haunting Quarter Quell, and it is by design that she has long been part of the revolution without knowing it. District 13 has come out of the shadows and is plotting to overthrow the Capitol. Everyone, it seems, has had a hand in the carefully laid plans--except Katniss.
The success of the rebellion hinges on Katniss's willingness to be a pawn, to accept responsibility for countless lives, and to change the course of the future of Panem. To do this, she must put aside her feelings of anger and distrust. She must become the rebels' Mockingjay--no matter what the personal cost.

The last and final book in the Hunger Games. I didn't quite enjoy this book as the other two I am not sure if it was just because it seemed slower or if it was because I was not liking District 13 and their bossiness.
You get to see the war happen between the people of 13 and the Capital and there is a no holds bar we see Katniss struggle with things going on within her, trying to determine if she will become the Mockingjay that they all want/need her to be to worrying about Peeta. It seems the capital is using Peeta to draw Katniss out and pretty much make her crazy because they know she cares for him.
Katniss is a broken soul it seems that no matter which direction she chooses to go nothing will go her way and it really hurts her when people who fight beside her that she has came close to lose their life to protect hers. She literally is the Mockingjay they all need but who is telling her the truth on all matters and who can she truly trust? We see a strong character change with Peeta and you can't help but feel for him. My heart broke with how he was treated but I felt it was necessary the author has done a wonderful job with the way the characters act, feel, and who they have became, the setting of Panema is just as amazing.
We have seen Katniss grow as a character but she seems to really shine in this book.
I did like the ending it wasn't a happily ever after ending it felt real and how it should have been.
If you haven't read the hunger trilogy I highly suggest you do it.


Since 1991, Suzanne Collins has been busy writing for children's television. She has worked on the staffs of several Nickelodeon shows, including the Emmy-nominated hit Clarissa Explains it All and The Mystery Files of Shelby Woo. For preschool viewers, she penned multiple stories for the Emmy-nominated Little Bear and Oswald. She also co-wrote the critically acclaimed Rankin/Bass Christmas special, Santa, Baby! Most recently she was the Head Writer for Scholastic Entertainment's Clifford's Puppy Days.
While working on a Kids WB show called Generation O! she met children's author James Proimos, who talked her into giving children's books a try.
Thinking one day about Alice in Wonderland, she was struck by how pastoral the setting must seem to kids who, like her own, lived in urban surroundings. In New York City, you're much more likely to fall down a manhole than a rabbit hole and, if you do, you're not going to find a tea party. What you might find...? Well, that's the story of Gregor the Overlander, the first book in her five-part series, The Underland Chronicles. Suzanne also has a rhyming picture book illustrated by Mike Lester entitled When Charlie McButton Lost Power.
She currently lives in Connecticut with her family and a pair of feral kittens they adopted from their backyard.
The books she is most successful for in teenage eyes are The Hunger Games, Catching Fire and Mockingjay. These books have won several awards, including the GA Peach Award.