#PaperbackFriday Book: Execution (Escape From Furnace #5) by Alexander Gordon Smith and finishing up Mockingjay by Suzanna Collins
So I forgot to do last weeks post on what paperback books I was reading. I did post a picture though!! Yay me. That has to count for remembering, it seems I get so busy on Fridays I forget to post about my weekend read it is actually quite sad.
So this #PaperbackFriday I am still reading Mockingjay by Suzanne Collins, so I will be hopefully finishing that up today and starting on Execution I was so busy last weekend that I hardly got to finish reading anything. Though this weekend since it is Bama vs. A&M my husband is having some friends over for the game so that means for me and kiddos to watch movies and for me to read. :) I totally see it as a win, win situation.
The cover of Execution is awesome and it has me wondering who is on the cover and what else is going to happen to Alex and the rest of the world. I guess I need to dive in and just get busy reading. Now Mockingjay is seeming to be pretty good I am only on page 35 so not much as happened but if it is anything like the other two books I expect it to be packed with action. Will the Capital be brought down finally or will the Capital make sure those that are rebelling put an end to the shenanigans?
So these are my reads for #PaperbackFriday what are yours?
Alex Sawyer has escaped his underground nightmare to discover the whole world has become a prison, and Alfred Furnace is its master. Monsters rule the streets, leaving nothing but murder in their wake. Those who do not die become slaves to Furnace's reign of cruelty. Alex is a monster too. He is the only one who can stop Furnace but in doing so he could destroy everything. Is he the executed or the executioner? Who will die? All Alex knows is that one way or another, it all ends now.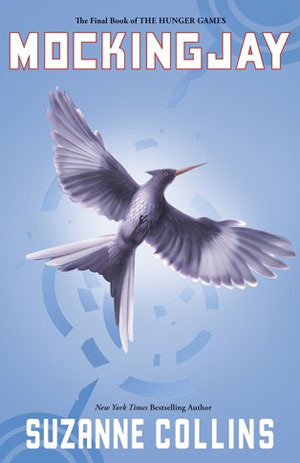 My name is Katniss Everdeen.Why am I not dead?
I should be dead.
Katniss Everdeen, girl on fire, has survived, even though her home has been destroyed. Gale has escaped. Katniss's family is safe. Peeta has been captured by the Capitol. District 13 really does exist. There are rebels. There are new leaders. A revolution is unfolding.
It is by design that Katniss was rescued from the arena in the cruel and haunting Quarter Quell, and it is by design that she has long been part of the revolution without knowing it. District 13 has come out of the shadows and is plotting to overthrow the Capitol. Everyone, it seems, has had a hand in the carefully laid plans--except Katniss.
The success of the rebellion hinges on Katniss's willingness to be a pawn, to accept responsibility for countless lives, and to change the course of the future of Panem. To do this, she must put aside her feelings of anger and distrust. She must become the rebels' Mockingjay--no matter what the personal cost.