Review: Catching Fire (The Hunger Games #2) by Suzanne Collins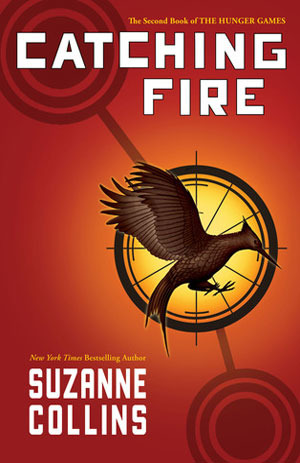 Title: Catching Fire (Book 2)
Author: Suzanne Collins
Published: Sept. 1, 2009
Publisher: Scholastic Press
Pages: 405
Genre: YA/Post-Apocalyptic
Review: Hardback
Buy Links:
Amazon
,
Amazon.uk
Sparks are igniting.
Flames are spreading.
And the Capitol wants revenge.
Against all odds, Katniss has won the Hunger Games. She and fellow District 12 tribute Peeta Mellark are miraculously still alive. Katniss should be relieved, happy even. After all, she has returned to her family and her longtime friend, Gale. Yet nothing is the way Katniss wishes it to be. Gale holds her at an icy distance. Peeta has turned his back on her completely. And there are whispers of a rebellion against the Capitol - a rebellion that Katniss and Peeta may have helped create.
Much to her shock, Katniss has fueled an unrest she's afraid she cannot stop. And what scares her even more is that she's not entirely convinced she should try. As time draws near for Katniss and Peeta to visit the districts on the Capitol's cruel Victory Tour, the stakes are higher than ever. If they can't prove, without a shadow of a doubt, that they are lost in their love for each other, the consequences will be horrifying.
In Catching Fire, the second novel in the Hunger Games trilogy, Suzanne Collins continues the story of Katniss Everdeen, testing her more than ever before...and surprising readers at every turn.
So this is book two in the series of The Hunger Games and I believe it to be just as good as book one The Hunger Games. Book two picks up right where book one left off. As you know Katniss and Peeta both survived the Hunger Games and are living a whole lot better than before but Katniss still tries to help those out in her district. Now it seems that we get to meet President Snow and we can see his distaste for Katniss and what she has seemed to have started without really knowing what she has started within the districts.
Peeta and Katniss still have to pull off the star-crossed lovers act and we see Katniss still battling her feelings for Gale.
As the story progresses we learn that there seems to be a rebellion happening and so when Peeta and Katniss get called to be part of another game this one still the same but a different arena from the capital it seems they both want to save the other and the other players are more than willing to be allies.
We get to learn more about Haymitch and his past and how he won the Hunger Games for his district many years ago. We also get to meet some of the players from previous games and even though they are short lived in some cases you can't help but feel for them having to relive it all over again.
There is still plenty of action, feelings, and rebellion being done in this book.
I have to say I did really like learning more about district 13 even though it is only briefly mentioned we know that there is something out there but what exactly?
The setting is still the same but just done perfectly that I can imagine it, the characters are still wonderful as from the first book. I can not wait to dive into book three I really want to know what is going to happen with Katniss and district 13.


Since 1991, Suzanne Collins has been busy writing for children's television. She has worked on the staffs of several Nickelodeon shows, including the Emmy-nominated hit Clarissa Explains it All and The Mystery Files of Shelby Woo. For preschool viewers, she penned multiple stories for the Emmy-nominated Little Bear and Oswald. She also co-wrote the critically acclaimed Rankin/Bass Christmas special, Santa, Baby! Most recently she was the Head Writer for Scholastic Entertainment's Clifford's Puppy Days.
While working on a Kids WB show called Generation O! she met children's author James Proimos, who talked her into giving children's books a try.
Thinking one day about Alice in Wonderland, she was struck by how pastoral the setting must seem to kids who, like her own, lived in urban surroundings. In New York City, you're much more likely to fall down a manhole than a rabbit hole and, if you do, you're not going to find a tea party. What you might find...? Well, that's the story of Gregor the Overlander, the first book in her five-part series, The Underland Chronicles. Suzanne also has a rhyming picture book illustrated by Mike Lester entitled When Charlie McButton Lost Power.
She currently lives in Connecticut with her family and a pair of feral kittens they adopted from their backyard.
The books she is most successful for in teenage eyes are The Hunger Games, Catching Fire and Mockingjay. These books have won several awards, including the GA Peach Award.