Review: From Bruges with Love (Van In #33) by Pieter Aspe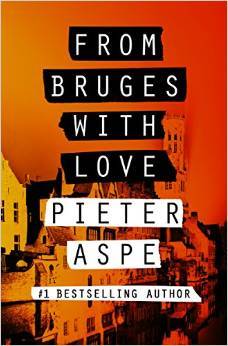 Title: From Bruges With Love
Author: Pieter Aspe
Published: July 7, 2015
Publisher: Open Road Media Mystery and Thriller
Pages: 336
Genre: Mystery and Thriller
Review: ebook provided by NetGalley and Publisher


Behind the glamorous facade of elite Belgian society lies a seedy world unseen by the public eye—but nothing stays hidden forever

Inspector Pieter Van In is begrudgingly finishing up a healthy lunch when he hears the news: While restoring their farmhouse, the Vermasts have found a skeleton in the backyard. Van In, who happens to be married to the deputy public prosecutor, is determined to solve the case in double-quick time and squeeze in one last vacation before the birth of his first child.
But this murder is trickier than it looks, and Van In soon finds himself in murky waters. The Vermasts' land belonged to the most prominent businessman in West Flanders before it was suddenly handed over to a right-wing charity. The heavily endowed foundation appears to have no expenditures or investments. So who's financing it—and why?
Before he knows it, Van In finds himself in the middle of a complex web—one that involves high-level officials, local law enforcement, and common thugs. The harder he tries to unravel the thread, the more difficult it becomes to uncover the secrets that the charity's benefactors are trying to hide. This time Van In will have to risk lives to find out the truth.

I received this book via NetGalley to give an honest review.
When I read the blurb I really enjoyed the way it sounded, though when I started the book I wasn't too invested in it. The skeleton being found intrigued me but then after that it went sorta downhill as at times I was getting confused by which characters were who. I didn't find the character Hannelore to be a very good character as she plays a big role but she spent have the time smoking and drinking while pregnant, though I know women do do this it just is a big turn off for me in a book. Also I didn't understand why a rookie cop who has no experience in being undercover was given that role in this book. It was just screaming of something bad happening. At the end when it did happen I would have like to have learn how she dealt with it because what was done was horrible.
It was a decent mystery as to who was the killer and I did enjoy how it all came back ten-fold on those that had a past with the person who was the skeleton. Other than that I wasn't heed over heels liking the book. Not sure if it was because the book was translated and it was a bit confusing with the characters or the story line but something just didn't click for me. Would I read more from this series umm that is a question that is tossed up in the air. I do think the author should rename his characters so they are easy to remember.
Pieter Aspe is het pseudoniem van Pierre Aspeslag. Hij studeerde Latijn-Wetenschappen aan het Sint-Leocollege in Brugge. Na zijn humanoria volgde hij gedurende korte tijd de universitaire opleiding sociologie. Hierna werkte hij als magazijnier, verkoper, bediende, seizoenagent bij de zeevaartpolitie, fotograaf, studiemeester, handelaar in brocante, handelaar in wijn en conciërge van de Heilig-Bloedkapel in Brugge. Sinds 1996 is hij voltijds schrijver van misdaadromans.


Pieter Aspe in de Nederlandstalige Wikipedia


Pieter Aspe is the pseudonym of Pierre Aspeslag. He studied Latin-Sciences at the Sint-Leo College in Bruges.




Pieter Aspe is a full time writer since 1996. Aspe writes crime fiction novels with inspector Pieter Van In and D.A. Hannelore Martens as principal characters, who become lovers in the first book

Het vierkant van de wraak

. Most of the stories are situated in Bruges, Belgium. Next to this series, Aspe also wrote two YA novels,

Bloedband

and the sequel

Luchtpost

and two novellas,

Grof Wild

and

De Japanse Tuin

.




In 2001 Aspe received the Hercule Poirot Price for his novel

Zoenoffer

.




The first ten novels of Aspe were made into a TV series called Aspe by VTM (Flemish TV channel). This was followed up by a second and third season, but they weren't television adaptations of the books. However the storyline of the TV series was further developed under the supervision of Pieter Aspe himself. After the first season of the series Aspe, the number of book sales increased significantly. He has currently sold over 1.5 million books in Belgium and The Netherlands.




His 24th novel

Misleid

was released in April 2009.


Translated from source: www.aspe.be
Pieter Aspe in the English Wikipedia



Pieter Aspe (nom de plume de Pierre Aspeslag) est un écrivain flamand.


Pieter Aspe dans la Wikipédia française