Review: Those Girls by Lauren Saft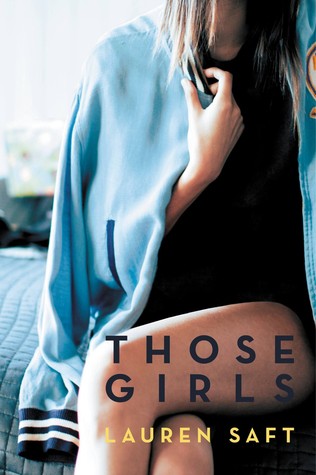 Title: Those Girls




Author: Lauren Saft




Published: June 9, 2015




Publisher: Popp

Pages: 336




Genre: YA




Review: ebook provided by NetGalley and the publisher















Some girls will always have your back, and some girls can't help but stab you in it.
Junior year, the suburbs of Philadelphia. Alex, Mollie and Veronica are those girls: they're the best of friends and the party girls of the school. But how well does everybody know them--and really, how well do they know one another? Alex is secretly in love with the boy next door and has joined a band--without telling anyone. Mollie suffers from a popular (and possibly sociopathic) boyfriend, as well as a serious mean streak. And Veronica just wants to be loved--literally, figuratively, physically....she's not particular. Will this be the year that bonds them forever....or tears them apart for good?

Lauren Saft masterfully conveys what goes on in the mind of a teenage girl, and her debut novel is raw, honest, hilarious, and thought-provoking, with a healthy dose of heart.
I received this book via NetGalley to give an honest review..
I have to say I really did like the book even with all the issues these girls were having. We are taken into the lives of three girls who have been friends since forever almost. Mollie and Alex have been friends since they were little and then Veronica came and they all stay together. Yes they go through problems with each other and don't talk but that is mostly what high school girls go through.
We have different p.o.v.s with this story being told through the eyes of each girl and we get a glimpse of how they see themselves and their world. I didn't agree with some of the things the girls either said or thought being as sometimes it was harsh but I guess that is what us females do to others? Though I am sure it isn't all females. Only one part I didn't think the girls would follow through with and when they did and what could have happened if no one walked in was just sad to see them get so low in their life they were willing to hurt their friend in that way.
Alex lives with her mother and brother and her best friend is Drew along with Mollie. Alex is starting to realize that she needs to branch out in her life and joins a band which I think is pretty amazing. Alex doesn't seem to like to start trouble but kind of just goes with the flow of things though she will call names when needed.
Mollie she is just crazy all over and I have a feeling that is because of her boyfriend Sam. As we read on about her relationship with Sam we learn it isn't healthy I mean they smoke, drink have sex all while his parents are upstairs and NO ONE says anything! Like how do Mollie's parents not know what is going on. When she gets in trouble later on in the book her parents make her go to church! Mollie seems to be the on in the group that holds a lot in, deals with a lot of self-esteem issues, and says things that hurt people.
Veronica oh boy she is a hot hot mess. I mean this girl is sleeping around which isn't good. She has a lot of self-esteem issues almost more than Mollie does. She just wants someone to love her and care for her but she doesn't know how to treat them exactly. Which is quite sad. She spends a lot of time at home by herself or partying and it made me feel for her.
The characters are unique but the same in more ways than one and when Veronica does the unthinkable Alex and Mollie decide to seek revenge but was it worth it is the question? Who will be the one hurt in the end?
I did keep hoping for the two best friends to get together because you can just tell by the way Alex and Drew hung around each other they just liked each other but would never act it out. I wish they would have ended up together but I guess they couldn't have their own H.E.A.
If you are looking for drama with a lot of sex scenes, cussing, drugs (weed) this book has it. I did enjoy it like I said at the beginning I enjoy a good YA that has the drama because then I look back and say wow glad my life wasn't like that.
Lauren Saft holds an MFA from the University of San Francisco and a Bachelor's degree from Tufts University. She's worked in publishing, tv, education, child care, retail, journalism, and food service, all the while closely studying the habits and compulsions of teenage girls. She currently works as a tv producer in Philadelphia where she lives with her cat and creative inspiration, Desi. Her work has been published in Five Quarterly, Rap Up Magazine, and clubplanet.com. One time, she met the Olsen twins. Those Girls is her debut novel.