Review: Milked by Lisa Doyle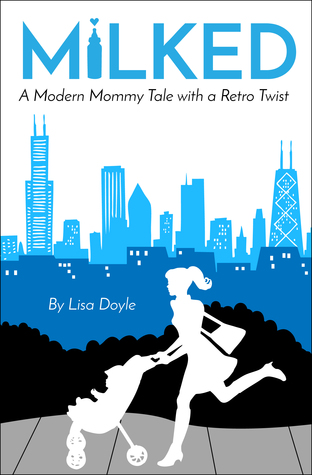 Title: Milked
Author: Lisa Doyle
Published: November 21, 2014
Pages: 308
Genre: Chick lit/Romance/humor
Publisher: Simon & Fig
Review: ebook provided by NetGalley and the publisher



By and large, Amanda Keane makes pretty good decisions. Okay, she might not have the best taste in men, but she's got great friends, a good job, and an independent spirit. That is, until her 30th birthday ushers in a whirlwind romance with a sexy Irish musician who leaves her, not at the altar as she imagined, but accidentally pregnant. And when he disappears, she's downsized out of a job, her apartment is robbed, and lapsed health insurance coverage leaves her with a C-section to pay for, Amanda is launched headfirst into the life of a broke single mom. But her friend and uber successful ob-gyn, Joy, clues her in to an unlikely temp position with one of Chicago's celebrity elite that just may be the answer to all her woes. Or could it be just the beginning?
It's with serious trepidation that Amanda embarks on her surprisingly lucrative new career: underground wet nurse to the offspring of Chi-town's rich and famous. Amanda must quickly understand how to live at the whims and mercy of the one percent as she deals with the irony of nursing – and loving – someone else's child, while still making ends meet for her own daughter. And then there's Cute Daycare Dad (aka Dan), who's obviously interested in her. But can she afford to tell him what she really does for a living? Is her new job (something she thought went out with the 19th century) a shameful thing? Just another way of selling her body? Or does it have something to teach her after all?
A novel of motherhood, its many demands, and all the little triumphs along the way, MILKED is a warm and witty debut about making tough choices and traveling the roundabout road to happiness.

I received this book via NetGalley to give an honest review.
I saw this book was up for requesting. I read the blurb once passed it on over. Read it again a few days later and figured I would give it a try.
Being a mother who breastfed her children I was kind of wondering where this was going to go. You don't read to many books that have talk about breastfeeding in them so this was one that was a good read.
You have Amanda the main character who is a normal twenty nine year old until she hits her thirtieth birthday. Everything seems to be going good until she brings home the Irishman she met at the Irish pub on her birthday. Things seem to good to be true until he had to leave to go back to his home and she took the test that determines if she is going to be momma. When it comes back positive and she lets him know they make plans for the future, when he takes the coward's way out it changes everything for Amanda. She has to become a single mother and make things work. We watch as she struggles with losing her job and trying to find work all while trying to raise a baby. When one of her best friends lets her know that she can become a milk nanny for those that are famous she hesitates but then jumps right into it. Now I would have never thought people did this for a living but I could see it happening in real life.
As she takes on this job she meets different walks of people while trying to take care of her own child who is growing up before her eyes. When Amanda thinks she may have met the man for her he doesn't know right away what she does for a living. She juggles her work as a so called nanny, a momma to her daughter and a girlfriend to Dan. It seems hard and we watch how Amanda holds it all together even when she loses the job as a milk nanny and picks up another client.
Towards the end we see what happens when her daughter's father comes back into the picture and we see how she handles this encounter. We also get to see if she stays in this profession or if she decides to hang it up.
This book is filled with humor and the struggle is real for a single mother. The plot is different than what I have read before.
Amanda is a strong character and I was amazed at how she tried everything to take care of her and her daughter. I really enjoyed how she learned more about herself and what she ended up wanting in life.