Review: Don't Stay Up Late (Fear Street Relaunch #2) by R.L. Stine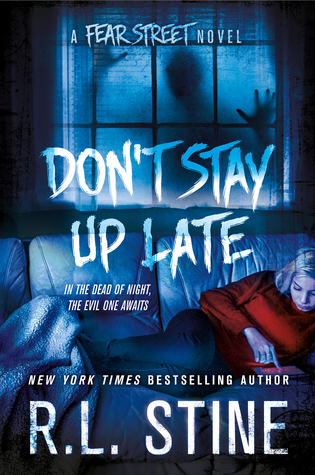 Title: Don't Stay Up Late
Author: R.L. Stine
Published: April 7, 2015
Genre: YA, Mystery, Teen
Pages: 304
Review: Ebook via Netgalley
The second new book in the re-launch of R.L. Stine's Fear Street series, which sold 80 million copies around the world, making it one of the bestselling young adult series of all time.

R.L. Stine's hugely successful young adult horror series Fear Street is back after almost 2 decades. Fear Street is a worldwide phenomenon and helped to kick off the young adult craze which is still going strong today. In the second new book in this series, Don't Stay Up Late, Stine explores the unbridled terror of a damaged young lady sent on a doomed babysitting job.

Ever since a car accident killed her father and put Lisa and her mother into the hospital, Lisa can't think straight. She's plagued by nightmares and hallucinations that force her to relive the accident over and over again in vivid detail. When Lisa finds out that a neighbor is looking for a babysitter for her young son, she takes the job immediately, eager to keep busy and shake these disturbing images from her head.

But what promised to be an easy gig turns terrifying when Lisa begins to question exactly who — or what — she is babysitting.

R.L. Stine makes his triumphant return to Shadyside in the new Fear Street book Don't Stay Up Late.

I received this book via NetGalley to give an honest review.
I grew up reading R.L. Stine books, I remember my first Fear Street book I read it was a present from my momma I think I read that book at least a dozen times and it never got old. So when I saw this book was up for requesting I wanted to give it a read.
R.L. Stine has a great way of capturing your attention with his books that you can not put it down.
Lisa is a normal girl who just moved to a new place and making friends. One night there is an accident and this causes her to seek help because now she is seeing things that are not truly there.
With the accident happening her mom can not work because she is hurt so Lisa with the help of her therapist takes on a babysitting job. Where the job is located at is on Fear Street. Oh the dreadful Fear Street where all the bad things happen at.
While working she is told to not let Harry stay up late no matter what he says. He is to be in bed early and Lisa tries her best to attempt this. This is when she encounters her first monster and soon the dead bodies come into play, poor Lisa knows she is seeing monsters but no one will believe her.
The ending was one I was anticipating to happen I have to say it still had me wanting to read more.
The only problem I had with the book is the way Lisa's mother treated her. It was like she never wanted to believe Lisa or help her get better if that makes sense to those that have read the book.
Would I read R.L. Stine's work again for sure and I hope to get my children into his books as well when they are older! They are not scary at all so they are good for those readers who don't like all the scariness in a book.
Robert Lawrence Stine known as R. L. Stine and
Jovial Bob Stine
, is an American novelist and writer, well known for targeting younger audiences. Stine, who is often called the Stephen King of children's literature, is the author of dozens of popular horror fiction novellas, including the books in the Goosebumps, Rotten School, Mostly Ghostly, The Nightmare Room and Fear Street series.
R. L. Stine began his writing career when he was nine years old, and today he has achieved the position of the bestselling children's author in history. In the early 1990s, Stine was catapulted to fame when he wrote the unprecedented, bestselling Goosebumps® series, which sold more than 250 million copies and became a worldwide multimedia phenomenon. His other major series, Fear Street, has over 80 million copies sold.
Stine has received numerous awards of recognition, including several Nickelodeon Kids' Choice Awards and Disney Adventures Kids' Choice Awards, and he has been selected by kids as one of their favorite authors in the NEA's Read Across America program. He lives in New York, NY.