Review: Beautifully Broken (Infinite Love #2) by Kira Adams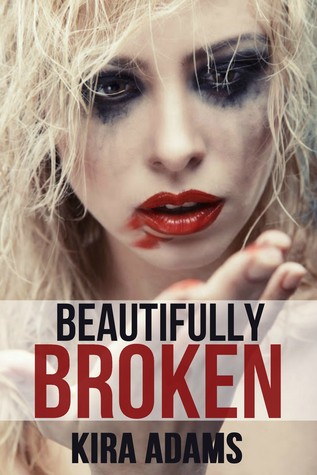 Jacqueline Blunt hasn't had an easy life. In fact, she's had anything but. From a drug addicted mother to being bounced around in foster care, Jacqueline longed for one thing—normalcy. Lee Bennett had everything he could ever want—girls falling all over him, a dream job, money. The one thing he was missing? Passion.
Sometimes the ones worth fighting for don't know their worth. Sometimes being broken is beautiful. This is a story of strength, courage, hope, faith, and love. This is Beautifully Broken.
I received this book to give an honest review.
I liked this book a bit more better than book one. I guess it is because we got two broken people who learn to come together and accept each others flaws that it makes the story work. The good thing about this series is that they it can be a stand alone. You don't have to read book one to figure out who these people are. But it is nice to have their back story in a way.
Jacqueline is a broken woman. She has had a rough childhood but she has slowly overcame it. Her demon is cutting, and there is only one person who knows this her friend Travis. Jacqueline doesn't think she will ever find love because she has so many problems.
She is a character I did like but her mood swings whew!
Now Lee, in book one we got some back ground on who Lee was via Maddy.
Lee is a player, one night stand man. He isn't looking for a relationship that is until Maddy came into his life. Then of course she broke his heart and he was on the bend of drinking and sleeping around.
When Parker and Maddy play match maker Lee meets Jacqueline.
It is a whirlwind of drama, mixed emotions, each have secrets that they end up opening up to each other. Which I thought it was amazing for Jacqueline to be able to do that.
Now the author does go back and forth between past and present so be prepared. I was use to this because of the way it was in book one. So I was already prepared, so I wouldn't get confused.
The ending was cute, and I thought it was perfect for it to end that way with Lee and Jacqueline.
The problems I had with the book.
The way Jacqueline and Lee acted at times didn't seem to "adult" it was more like teenagers.
When Lee meets Jacqueline he is quick to try to get into her pants, this didn't sit to well with me. He wasn't forceful but it came out too strong on his part.
Would I read book three? Of course!


Krista Pakseresht has always been a dreamer. From the first time she opened her eyes. Creating worlds through words is one thing she is truly talented at. She specializes in Young adult/New adult romance, horror, action, fantasy, and non-fiction under the pen name Kira Adams.
She is the author of the Infinite Love series, the Foundation series, the Darkness Falls series, and the Looking Glass series.
https://www.facebook.com/KiraAdamsauthorhttp://www.wattpad.com/user/xKiraAdamsxhttp://figment.com/users/375251-Krist...http://www.amazon.com/My-Forever-Infi...http://www.amazon.com/dp/B00KTDGLTW