Review: Fae - The Wild Hunt (Riven Wyrde Saga #1) by Graham Austin-King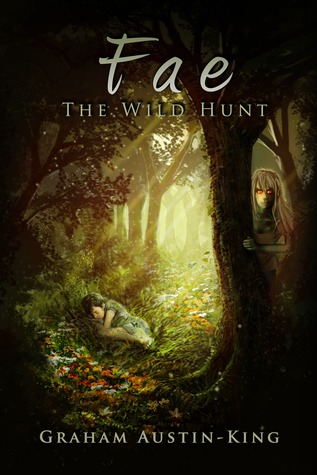 Faeries... The fae... The stuff of bedtime stories and fables.

But sometimes the faerie tales are true. Sometimes they are a warning...

For a hundred generations the fae have been locked away from the world, in the cold, the Outside. They have faded out of sight and mind, into myth and folklore. But now the barriers are weakening and they push against the tattered remnants of the wyrde as they seek a way to return.

As a new religion spreads across the world, sweeping the old ways and beliefs away before it, a warlike people look across the frozen ocean towards the shores of Anlan, hungry for new lands. War is coming, even as the wyrde of the Droos is fading.

As the fae begin to force their way through the shreds of the wyrde, will mankind be able to accept the truth concealed in the tales of children in time to prepare for the Wild Hunt?

I have to say that this was a decent fantasy story. I really got into the story when it first started. You have a young mother who is tired of her husband and his temper enter into she figures she will flee with her young child. I figured okay I can dig this. Then we see as even though the mother flees with her child she is still in as much danger as if she had stayed. This is when we first meet the fae though it doesn't say hey this is a 'fae'. Fast forward to where we enter into a village where Devin (the little boy who fled with his mother) and his friend Kloss live, this is where the story kind of slowed down for me. Devin helps out with the farm while his friend Kloss decides to join and become an Oarsman. Where he learns to row big ships and fight. I thought that was pretty cool idea to throw into the story. It had I want to say almost a viking feel to it for me. As the story progresses we learn that lands from afar are starting to invade little parts of land on the coast. But there is more than just the invaders no there are the Fae! Devin's past comes to his face and we are left wondering what else will happen.
Now when you think of Fae you think of fairies who are all friendly and dance and play music. Oh no these Fae are evil they are not all fun and games. They are on a hunt for humans and it seems when the moon is full that is when they will be making their way into our world. This is a dark fantasy and not something I would recommend to the younger kids, maybe the teenagers on up. There is action mildly throughout but it seemed to be more towards the end for me. The Fae do play a part but we don't really read about them only in the beginning and then towards the end.
The plot is slow to get into, and the characters are different. Kloss is one to me that we seemed to read more about. We got to hear how he wanted to be an Oarsman, how he stopped a thief and so on. Devin I figured would have been more into the story being as he started the story off with us. This is what brought my rating down.
Now there is a cliff hanger and I know most people don't like them. This cliff hanger is right in the middle of an action packed fight so you have to get book two to find out how this all turns out. Do the humans win? Or the Fae? What about the Druids? What about Devin's mom? So many questions to be answered.
Graham began writing with children's books for his own kids. Fantasy is the genre he has always read himself though, and this is why he started The Riven Wyrde Saga, a fantasy series beginning with "Fae - The Wild Hunt". Book two in the series is expected to be available autumn 2014.
Visit his blog at http://grahamak.blogspot.co.uk where you can sign up for e-mail updates and be the first to hear about new releases.
Find Graham on facebook at http://on.fb.me/1pMyWmK He loves to chat with readers.
Follow him on Twitter at www.Twitter.com/Grayaustin
What others are saying about Graham's books:
"The action is great, the suspense is well done and the Fae are truly scary." - Leanne Ellis, Bloody Cake News
"...If you like fantasy books which you can really get stuck into then this one is for you!" - Bodicia, A Woman's Wisdom Blog
"...This is a fantastic fantasy! I loved it!" - Lynn Worton, Book Reviews by Lynn.