Review: I Hunt Killers (Jasper Dent #1) by Barry Lyga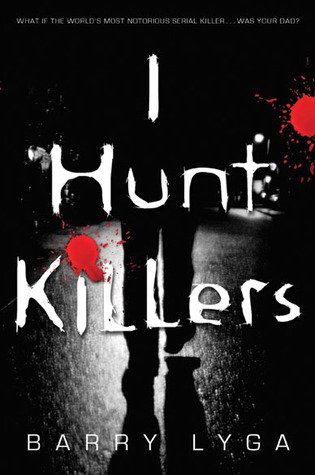 What if the world's worst serial killer...was your dad?
Jasper "Jazz" Dent is a likable teenager. A charmer, one might say.
But he's also the son of the world's most infamous serial killer, and for Dear Old Dad, Take Your Son to Work Day was year-round. Jazz has witnessed crime scenes the way cops wish they could—from the criminal's point of view.
And now bodies are piling up in Lobo's Nod.
In an effort to clear his name, Jazz joins the police in a hunt for a new serial killer. But Jazz has a secret—could he be more like his father than anyone knows?

I received this book via NetGalley to give an honest review.
This book is on a whole totally different level than I expected it to be. If I could give this book more than a 5 rating I sure enough would. I could connect with the main character and I could feel what he was going through.
What do you do when you are the child of a serial killer? This book gives you a take on what one young teenager goes through, feels, his thoughts and how he deals with it all along with tracking a serial killer down.
Jazz is trying to get on with this life 4 years after his father is locked up he has a girlfriend, really no friends except Howie and taking care of his grandmother who unfortunately I believe suffers from Alzheimer's.
When there a murder happens Jazz automatically senses a serial killer is on the loose, but of course the local police don't want to believe it. With the help of Howie Jazz goes on a mission to hunt this serial killer down before more people are murdered. But the serial killer's pattern is familiar to Jazz which gives him a bit of the upper hand on stopping him in time.
The plot was just awesome, the story did not get boring. It was constantly moving with figuring out who was the serial killer and the humor that you could get from Jazz's grandmother. My favorite part from Jazz's grandmother was when she was on the floor moving on her stomach with a bbq fork because of the reporters. She kept thinking they were going to impregnate her with babies and then give her aids to kill her, all I could do is die with laughter.
This is one author that I really do like his writing style. He has a great book that will keep you turning the pages until the very end to figure out who is who. The characters each have their own personality and you can tell who is who. I plan on reading more from this author. I see there is a second book and I plan on getting my hands on it. I want to see what exactly will happen now with Jazz with the information that he now knows!
Barry Lyga is a recovering comic book geek. According to Kirkus, he's also a "YA rebel-author." Somehow, the two just don't seem to go together to him.
When he was a kid, everyone told him that comic books were garbage and would rot his brain, but he had the last laugh. Raised on a steady diet of comics, he worked in the comic book industry for ten years, but now writes full-time because, well, wouldn't you?
The Astonishing Adventures of Fanboy & Goth Girl is his first novel. Unsoul'd is his latest. There are a whole bunch in between, featuring everything from the aftermath of child abuse to pre-teens with superpowers to serial killers. He clearly does not know how to stick to one subject.