Dear Martin by Nic Stone
Title: Dear Martin
Author: Nic Stone
Published: Oct. 17, 2017
Publisher: Crown Books for Young Readers
Pages: 212
Review: library
Genre: Teen/YA
Raw, captivating, and undeniably real, Nic Stone joins industry giants Jason Reynolds and Walter Dean Myers as she boldly tackles American race relations in this stunning debut.
Justyce McAllister is top of his class and set for the Ivy League—but none of that matters to the police officer who just put him in handcuffs. And despite leaving his rough neighborhood behind, he can't escape the scorn of his former peers or the ridicule of his new classmates. Justyce looks to the teachings of Dr. Martin Luther King Jr. for answers. But do they hold up anymore? He starts a journal to Dr. King to find out.
Then comes the day Justyce goes driving with his best friend, Manny, windows rolled down, music turned up—way up, sparking the fury of a white off-duty cop beside them. Words fly. Shots are fired. Justyce and Manny are caught in the crosshairs. In the media fallout, it's Justyce who is under attack.
I was actually looking around on overdrive and saw this book. The title is what called me to grab it, I then looked at Goodreads and saw a fellow blogger reviewed it and said: "I don't think I have the proper words yet." This screamed for me to read it and see why she couldn't have the proper words yet.
I honestly was amazed at how raw this story was. Dear Martin and Thug are two books that I recommend you read.
This story is powerful, a young black man and I call Justyce a man because what he went through makes him one. He wants to try his hardest to live like Dr. Martin Luther King Jr did and yet learns how real and hard the struggles are for a person of color in this present day and time.
Justyce goes to a great school that gives him opportunities yet all people can really see if that he is black, doesn't matter how good he does for himself.
When he gets put into handcuffs this starts to become an eye opener for him and when he is effected in a tragic killing Justyce really sees how he is portrayed yet he keeps his head held up high. Though it makes him mad that people only want to see or hear one thing.
The author did a great job in everything on this story to the reactions and actions of everyone. Also the way a picture can scream a thousand words and be taken out of context.
The amazing thing is that he wrote letters to Martin and he put his thoughts and what happened in to it.
There were quite a few quotes that stood out to me in this book.
"What do I do when my very identity is being mocked by people who refuse to admit there's a problem?"
"You can't change how other people think and act, but you're in full control of you. When it comes down to it, the only question that matters is this: If nothing in the world ever changes, what type of man are you gonna be?"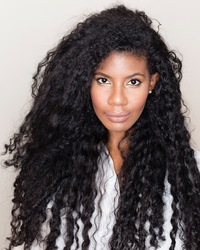 Nic Stone was born and raised in a suburb of Atlanta, GA, and the only thing she loves more than an adventure is a good story about one. After graduating from Spelman College, she worked extensively in teen mentoring and lived in Israel for a few years before returning to the US to write full-time. Growing up with a wide range of cultures, religions, and backgrounds, Stone strives to bring these diverse voices and stories to her work.
Stone lives in Atlanta with her husband and two sons. You can find her on Twitter and Instagram at @getnicced or on her website nicstone.info.