Everything, Everything by Nicola Yoon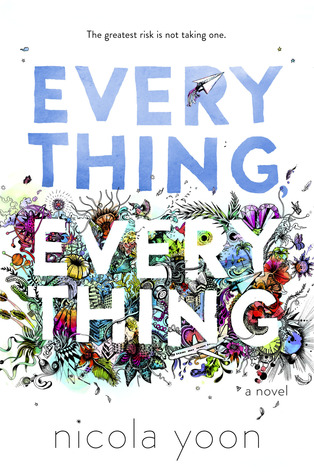 Title: Everything, Everything
Author: Nicola Yoon
Published: Sept. 1, 2015
Publisher: Random House LLC
Pages: 354
Review: Library book
Genre: YA
My disease is as rare as it is famous. Basically, I'm allergic to the world. I don't leave my house, have not left my house in seventeen years. The only people I ever see are my mom and my nurse, Carla.
But then one day, a moving truck arrives next door. I look out my window, and I see him. He's tall, lean and wearing all black—black T-shirt, black jeans, black sneakers, and a black knit cap that covers his hair completely. He catches me looking and stares at me. I stare right back. His name is Olly.
Maybe we can't predict the future, but we can predict some things. For example, I am certainly going to fall in love with Olly. It's almost certainly going to be a disaster.
I have been seeing the trailer on this movie and decided that I needed to read the book before watching it. I am so glad I did. This was one of those books that I kind of expected it to go a certain way and it kind of surprised me a bit.
Maddy is sick and has no contact with the outside world except her nurse and her mother. It seems that what she has can kill her if she is exposed to all the germs that our world has. Seems like it is a lonely disease to have because you can't experience or see the outside world. When the boy next door moves in her world is turned upside down. He makes contact with her and just with talking to him Maddy realizes there is more to life than just being protected. We see how Maddy turns into a lovesick teenager who will defy her mother.
This book I guess could be considered to be a bit corny but I have to say I enjoyed it.
Another thing about the book it wasn't just a story it has the emails between Maddy and Olly, what Maddy thought about. Just random thoughts and ideas from a girl who is suck in a bubble so to speak.
Now the way the ending came about I was okay with it. I thought maybe Maddy's mom needed a lot of help and I hoped she had gotten in because it doesn't talk much about that.
It is a clean read for teens and I think they would enjoy this story.
Nicola Yoon grew up in Jamaica (the island) and Brooklyn (part of Long Island). She currently resides in Los Angeles, CA with her husband and daughter, both of whom she loves beyond all reason. Everything, Everything is her first novel.