Review: Neighbors by Jeremy Bates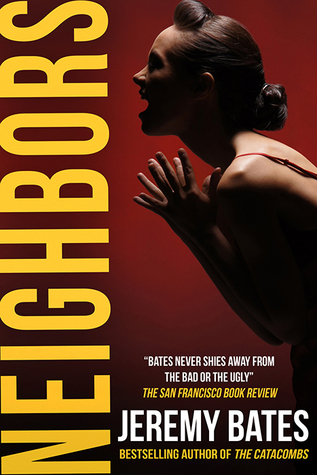 Title: Neighbors
Author: Jeremy Bates
Published: July 24, 2015
Publisher: Ghillinnein Books
Pages: 92
Genre: Short Stories, murder
Review: ebook provided by author
YOU NEVER KNOW WHAT KIND OF PSYCHO MAY BE LIVING NEXT DOOR
New York is a city of eight million strangers. For twenty-five-year old Buddy Smith, who values his privacy, it's the only place he would call home. Yet his simple life is flipped upside down when a new neighbor moves in next door. She's young, beautiful, a bit nosy...and might just be a cold-blooded killer. Against his better judgment, Buddy spends the night with her—a decision that will prove to be the biggest mistake of his life.
I received this book to give an honest review.
I have to say though this story is short it packs quite a punch. We are introduced to Buddy who lives in an apartment complex with this mother and who is a writer though never published. When his next door neighbor moves in and offers him beer and pizza he makes an excuse up. He rather just be alone. So when his day goes to hell that is what starts this adventure with Buddy and it does not end pretty at all. Though he has a story he can write so there is always that.
It honestly was a short and to the point story, Buddy though we learn just a little about him is chilling and makes you never want to have a neighbor like him.
JEREMY BATES is the #1 bestselling and award-winning author of several novels and short stories. He writes suspense, horror, and thrillers. The novels in his "World's Scariest Places" series are set in real locations, and so far include Suicide Forest in Japan, The Catacombs in Paris, Helltown in Ohio, and (forthcoming) Island of the Dolls in Mexico. His books have been translated into several languages. You can check out any of these places on the web, or visit his website at: JEREMYBATESBOOKS.COM