#PBwkenedread Review: The 5th Wave (The 5th Wave #1) by Rick Yancey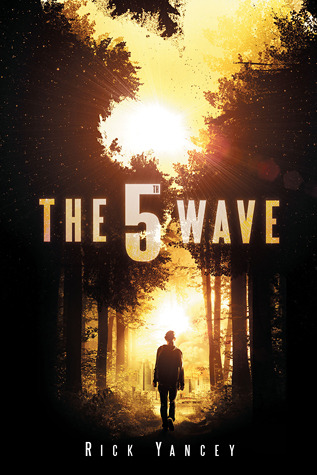 Title: The 5th Wave
Author: Rick Yancey
Publisher: Putnam Publishing Group
Published: Jan, 1, 2013
Pages: 457
Genre: YA, Sci-fi
Review: Library book
Buy Links:
Amazon
,
Amazon.uk
After the 1st wave, only darkness remains. After the 2nd, only the lucky escape. And after the 3rd, only the unlucky survive. After the 4th wave, only one rule applies: trust no one.
Now, it's the dawn of the 5th wave, and on a lonely stretch of highway, Cassie runs from Them. The beings who only look human, who roam the countryside killing anyone they see. Who have scattered Earth's last survivors. To stay alone is to stay alive, Cassie believes, until she meets Evan Walker. Beguiling and mysterious, Evan Walker may be Cassie's only hope for rescuing her brother--or even saving herself. But Cassie must choose: between trust and despair, between defiance and surrender, between life and death. To give up or to get up.
First I have heard about this book a lot via social media especially since I guess it has been turned into a movie. Then my librarian asked me if I had read it and of course I hadn't. So I picked it up and decided I would give it a read and see how it goes.
I really did like the book and how everything was done in waves to get rid of the human population. But I was confused at times with the different P.O.V.'s I was reading Cassie's story and then flipped the page and it starts off with the name Zombie and I was like wait what? Went back re-read a few pages went back to the chapter and started reading again and realized that it was a whole other person we were going to be talking about. That right there had me drop a star.
We get to learn a little bit about the other waves and how they affected Cassie but we mostly stick with the 5th wave and what is in store for those that are still here on Earth. Now I was a bit confused to exactly what was going on around page 317 because I wasn't sure who was in the right and who was in the wrong when you read the book you may know what I mean. As I got closer to the end it all made sense and made to be quite interesting since that is when the most action comes into play.
As a reader I didn't really get to understand the aliens and why they were doing what they were doing to the humans. What exactly were their intentions? Hopefully in the next book we get to learn more.
Characters: Cassie I liked how she was able to survive after no longer having anyone and set her goal to finding her brother. It was nice to see her think before she acted in some situations though when it starts going crazy you don't have time to think.
Zombie: I kept wondering who this person was and when we get towards the end if it didn't already click for you, you will know. He has a big heart for the little kids especially one called Nugget and so when he learns of the plans that are going on within the place he is at his goal is to get to Nugget.
Evan very mysterious. Someone that when I first started reading about it didn't click to me on who he was but as time went on I went oh my goodness okay. Let's leave it at that. You can tell he wants to be the good guy but who will trust him?
Hopefully I didn't give much away in this review. The plot was good I don't really do alien type books as they get to be too much but as I was willing to give this one a try I thought it was pretty good. Will be reading book two to see how some of the characters survive.
#PBwkendread

Rick is a native Floridian and a graduate of Roosevelt University in Chicago. He earned a B.A. in English which he put to use as a field officer for the Internal Revenue Service. Inspired and encouraged by his wife, he decided his degree might also be useful in writing books and in 2004 he began writing full-time.
Since then he has launched two critically acclaimed series: The Extraordinary Adventures of Alfred Kropp, for young readers, and The Highly Effective Detective, for adults. Both books are set in Knoxville, Tennessee, where Rick lived for ten years before returning to Florida.