NetGalley Review: Ugly by Margaret McHeyzer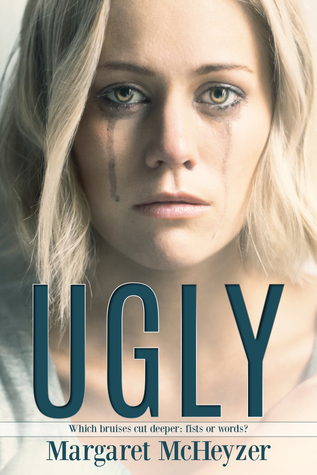 Title: Ugly
Author: Margaret McHeyzer
Published: Oct. 26, 2015
Pages: 443
Genre: New Adult, Mature Teen, YA
Review: ebook provided by NetGalley and publisher
Buy Links:
Amazon
,
Amazon.uk
**2.99 on pre-order and 3.99 on release date**
If I were dead, I wouldn't be able to see.
If I were dead, I wouldn't be able to feel.
If I were dead, he'd never raise his hand to me again.
If I were dead, his words wouldn't cut as deep as they do.
If I were dead, I'd be beautiful and I wouldn't be so...ugly.
I'm not dead...but I wish I was.
*This is a dark YA/NA stand-alone, full-length novel. Contains violence.

I received this book via NetGalley to give an honest review.
First off if you did not read the synopsis this book is very DARK and has abuse within the story.
This book hit me right in the heart from the start and had me within its grasps to the very end.
Lily is the main character and she has been through hell since she was a little girl, I kept wondering what would make her father want to beat her, call her names, and not feed her and I got my answer at the very end. I kept wondering if we would ever be told and so when it came to be I was like OMG how heartbreaking for all involved.
While Lily is dealing with things at home somehow she has caught the eye of Trent and I knew from the way he was acting something was very very off on him but I didn't want to pinpoint it if I wasn't correct. Though I was. All you can wonder through out the story is WHY did no ONE think to ask Lily what was going or why she was so skinny. It was like no one wanted to truly ask as I guess because it wasn't their business. As the story progresses it just seems to get worse for Lily and you are left wondering will she ever find happiness, will she ever have a normal life?
Then pops in not only her one true friend but later on a true gentleman. Shayne is a good person for Lily as a friend not only does she worry about her and her situation; you can tell they have an amazing friendship only because for friends to lose contact and then meet up again like nothing has changed (even though it has in life) is a true friendship.
When she meets Max Lily knows to take things very slowly with him and it seems Max can relate to Lily's situation and is willing to be there for her no matter what. Max was the knight in shining amour the one that you want to see be there for someone who needs them.
The ending for me was perfect for this story I won't tell you how it ends but I say get your hands on this book read it, devour it, leave a review on your thoughts about this story.
**Bound by custom or unique by choice.**
There's something about the written word that's pure magic.
Possibly it's the fact that there are 26 letters in the English alphabet, and they can create something so beautiful or so empowering that they're able to change our lives.
How important is it that we break suit and stretch our minds?
I like to think of myself as 'unique'. My stories aren't for everyone, and sometimes I may push what you believe to be 'normal'.
Normal is subjective.
I prefer to be known as a person who's never been 'bound by custom' but is 'unique by choice'.
Until next time
Mxx
https://www.youtube.com/watch?v=szh5JBd5fbs&feature=youtu.be