Review: The Girl from the Well (The Girl from the Well #1) by Rin Chupeco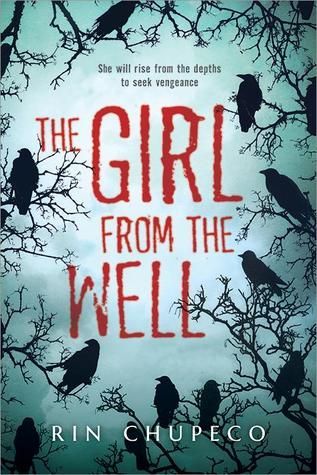 Title: The Girl From the Well #1
Author: Rin Chupeco
Published: Aug. 5, 2015
Publisher: Sourcebooks Fire
Pages: 304
Genre: Horror
Review: ebook provided by NetGalley and the publisher
Buy Links: Amazon, Amazon.uk, barnes and noble
You may think me biased, being murdered myself. But my state of being has nothing to do with the curiosity toward my own species, if we can be called such. We do not go gentle, as your poet encourages, into that good night.

A dead girl walks the streets.
She hunts murderers. Child killers, much like the man who threw her body down a well three hundred years ago.
And when a strange boy bearing stranger tattoos moves into the neighborhood so, she discovers, does something else. And soon both will be drawn into the world of eerie doll rituals and dark Shinto exorcisms that will take them from American suburbia to the remote valleys and shrines of Aomori, Japan.
Because the boy has a terrifying secret - one that would just kill to get out.

The Girl from the Well is A YA Horror novel pitched as "Dexter" meets "The Grudge", based on a well-loved Japanese ghost story.
I received this book via NetGalley to give an honest review. OMG!! This is a book that I LOVED! Even though it wasn't all the scary it was just the story surrounding it. I have been wanting to read this book since I saw the paperback cover of this book. I have to get the paperback version as it is a beautiful cover.
In the synopsis it says 'horror novel pitched as Dexter.' I wouldn't even compare it to Dexter in any way. This is more The Ring meets The Grudge and made a damn good ghost story. I found myself staying up late to read it and when I couldn't keep my eyes opened anymore I started back up reading it at 6:00 in the morning and finishing it an hour later I was that much into this story.
You have a ghost who was murdered hundred of years ago and she glides, walks whatever a ghost does and kills those that harm others. She sees those criminals (even though they haven't been charged via the police) have people attached to them via chains or ropes it is their victims surrounding them. How creepy is that right I mean that is something to see. In comes Tark he is young teenager whose mother is literally crazy but for a reason. She is committed into a hospital and before she was she had put tattoo's on Tark when he was very little. Why? Well you have to read the story to find that part out, but it was pretty cool on why she did it in a weird sort of way. He keeps to himself the best he can because it seems out of the blue weird things happen like birds flying in windows without heads.
Tark has a dark spirit within him, he knows it but he doesn't understand why. Now the ghost from the beginning plays a huge part through out the book. Her name is Okiku and she counts a lot, to the point at first I was like who is counting and why? I eventually understood the counting but it was just one of those details that was out there.
When Tark eventually gets the help to get rid of this spirit who we learn later who she is, it takes a toll on him and we see why Okiku is drawn to him in some way. This is a ghost story, it has Japanese culture in it which I liked and enjoyed. The outcome may or may not be what you expect it to be for me I was hoping the ending to turn out in the way it did a bit.
Tark was a character that you could do nothing but feel for him in so many ways, he had a mother who loved him in her own way but not the way he wanted her to. Okiku is a spirit that you root for on killing the bad people in the world. Overall really good book that I plan on reading book two to see what else can happen with Tark if he is even in book two I have no clue.


Despite an unsettling resemblance to Japanese revenants, Rin always maintains her sense of hummus. Born and raised in Manila, Philippines, she keeps four pets: a dog, two birds, and a husband. Dances like the neighbors are watching.
She is represented by Rebecca Podos of the Helen Rees Agency. She is also fond of speaking in the third person, and may as well finish this short bio in this manner. While she does not always get to check her Goodreads page, she does answer questions posed to her here as promptly as she is able to. Find her at the following places instead:




Twitter: @rinchupeco
Pinterest: Rin Chupeco
Blog: rinchupeco.com