Review: Unbreakable Kami Garcia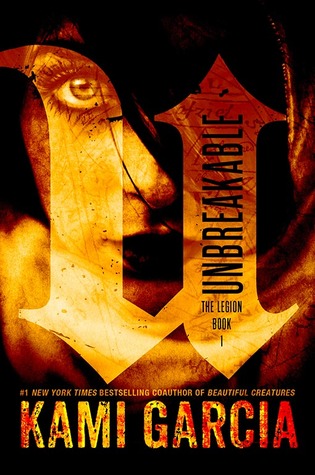 Supernatural meets The Da Vinci Code in this action-packed paranormal thriller, the first book in a new series from New York Times bestselling author Kami Garcia.

I never believed in ghosts. Until one tried to kill me.
When Kennedy Waters finds her mother dead, her world begins to unravel. She doesn't know that paranormal forces in a much darker world are the ones pulling the strings. Not until identical twins Jared and Lukas Lockhart break into Kennedy's room and destroy a dangerous spirit sent to kill her. The brothers reveal that her mother was part of an ancient secret society responsible for protecting the world from a vengeful demon — a society whose five members were all murdered on the same night.
Now Kennedy has to take her mother's place in the Legion if she wants to uncover the truth and stay alive. Along with new Legion members Priest and Alara, the teens race to find the only weapon that might be able to destroy the demon — battling the deadly spirits he controls every step of the way.
Suspense, romance, and the paranormal meet in this chilling urban fantasy, the first book in a new series from Kami Garcia, bestselling coauthor of the Beautiful Creatures novels.

I received this book via NetGalley to give an honest review. 4 1/2 rating.
I have to say this was very paranormal book. Right from the very beginning I was intrigued on the story line. Demons? Ghosts? Well that is right up my alley of reading. Demons and Ghosts are creatures that I enjoy reading about when they are written correctly. And the author did this perfectly for me.
Now we have Kennedy who is a normal teenager nothing special about her except that she can really draw. But everything changes within a matter of time when Kennedy comes home and her mother is dead. Now the way she died was pretty cool as I didn't even put two and two together until Kennedy met the brothers and they explained the whole ghost thing. Or vengeful spirits as they are known. Along with the Legion group.
So after the death hits Kennedy and this group of teenagers go on a mission to stop a very powerful demon. They have to piece together a weapon but the question is what will the weapon do once put together? No one knows truly they only hope that it puts the demon to rest.
Kennedy is shy and keeps to herself. But when she teams up with the twins, Jared and Lukas, Priest, and Alara Kennedy changes for the better. She becomes more comfortable and you can tell she is going to be good at getting rid of the spirits that need to be gone from our world.
I loved how the spirits were able to "hurt' or attempt to hurt those that got close to them. It brings that creep factor into play.
After we get through the death of Kennedy's mother it is action after action, ghost after ghost, clue after clue. And it all works together.
Now there is a semi love triangle between Kennedy, Jared and Lukas. I kind of wanted to slap Kennedy a bit and tell her not to lead the boys on. She would be with Jared a bit too long, and Lukas would be looking down. Or she would be with Lukas a bit too long and Jared would have a look on his face. Just things like that. And plus your mom just died and you are trying to stay alive so boys shouldn't be on your mind. More like learning how to wield some weapons and fight is what she should be thinking about.
I did enjoy the way they all had to work together to get rid of the ghosts. It wasn't just a one person thing it took a team of them. I have to say my favorite two scenes were the one with the children in Mercy Hospital and the prison. Both totally freaky and cool at the same time.
Overall a great story and I will be looking out for book two. I want to know if they succeed or not. Will Kennedy become an official Legion member, will Kennedy get the answers as to why her mother never told her about the supernatural?
Kami Garcia is the #1 New York Times, USA Today, Publishers Weekly, Wall Street Journal & international bestselling co-author of the Beautiful Creatures Novels (Beautiful Creatures, Beautiful Darkness, Beautiful Chaos & Beautiful Redemption). Beautiful Creatures has been published in 50 countries and translated in 39 languages. The Beautiful Creatures movie released in theaters on February 14, 2013.
Kami is also the author of Unbreakable, the first book her paranormal solo series, THE LEGION (coming October 1, 2013.
Kami grew up outside of Washington DC, wore lots of black, and spent hours writing poetry in spiral notebooks. As a girl with Southern roots, she has always been fascinated by the paranormal and believes in lots of things "normal" people don't. She's very superstitious and would never sleep in a room with the number "13″ on the door. When she is not writing, Kami can usually be found watching disaster movies, listening to Soundgarden, or drinking Diet Coke.
Kami has an MA in education, and taught in the Washington DC area until she moved to Los Angeles, where she was a teacher & Reading Specialist for 14 years. In addition to teaching, Kami was a professional artist and led fantasy book groups for children and teens. She lives in Los Angeles with her husband, son, daughter, and their dogs Spike and Oz (named after characters from Buffy the Vampire Slayer)