Review: Next to You (Life #2) by Claudia Y. Burgoa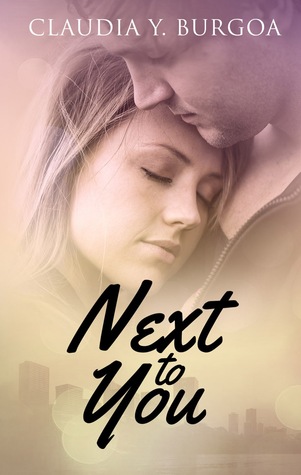 Him
…I need time. Time to heal those wings and learn to use them…
Was part of the letter Rebecca Trent, Daniel Brightmore's fiancée and best friend left when she ran away. The person he trusted the most for the past decade disappeared without giving him a second glance. She taught him how to love, believe in family and that everyone deserves a happily ever after. Now he's struggling between wiping any traces of her from his life and drowning his sorrows away with the help of his new best friends—Don Julio and Jack Daniels.
Her
Rebecca's past suffocated her to the point of not wanting to continue, her lifeline and the only reason to live began to withdraw from her. She wished it had been her imagination, but heard it loud and clear: "If not, there's always a divorce, nothing is forever." This time it became a leave or die situation. Something has got to change—she had to change. Packing light and leaving a letter behind, she takes a journey that can help her find herself through the shards of her painful childhood.
As letters, memories and stories are exchanged, two once inseparable people reconcile what's left of their relationship. Beyond the confines of everything they built together, they're left with two lonely people searching for what it means to be whole. Will they find meaning under their bruised psyches or will their pasts get the better of them?
Title: Next To You
Author: Claudia Y. Burgoa
Publication: July 1, 2014
Pages: 233
Genre: Romance
Rating: 4.5
I received this book to give an honest review.
As soon as I read book one I just had to read book two to see what Becca had in mind after the letter she left Dan. We start off in Next To You with the letter Becca wrote which I think is great so you don't forgot what was written. We see the downward spiral of Dan as he takes the news that Becca is off on her own. We all know that Dan has to be in control and when things don't go his way it makes him a bit angry.
Dan is one of those characters in a book that I try to like but he has too many issues for this lady right here to like him. He is controlling and very angry and we get more information on his past which make him the way he is. Which makes you go awww but at the same time go you need to change.
We watch as Becca grows a lot within this book. She changes for the better in my opinion. She confronts her demons and she learns things about herself also she becomes more out spoken which I think is great for her to do. I enjoyed how she wanted to take things slow with Dan even though it drove him crazy.
I really enjoyed how Becca wrote letters and put her feelings and thoughts out there to Dan. It seems to be really good therapy and works for Becca.
I do have to say it drove me batty the relationship that Dan and Becca have. Are they friends, together, acquaintances? It just went back and forth so much that it was crazy. Like literally pick what you are lol.
It is easy to get caught up in the story of Becca and Dan, you laugh with them and get upset and that is what you want in a book. We do get a HEA with this book and honestly I truly didn't even think of the ending happening that way. Not sure why I didn't I guess because I figured Becca would still be coming to terms with her past and present and not only that she would continue trying to get Dan to let go of the rage that he feels.
Let me just say you will go through tons of emotions within the book. You will want to hug the characters, strangle them and then pat them on the back. The author did a great job with this sequel.
Born on the mystical day of October 30th in the not so mystical lands of Mexico City, Claudia grew up with a childhood that resembled a caffeine-injected soap opera. Seventeen years ago she ventured to the lands of her techie husband—a.k.a. the U.S.—with their offspring to start a new adventure.
She now lives in Colorado working as a CFO for a small IT company, managing her household filled with three confused dogs, said nerd husband, two daughters wrought with fandoms and a son who thinks he's the boss of the house. To survive she works continually to find purpose for the voices flitting through her head, plus she consumes high quantities of chocolate to keep the last threads of sanity intact.

http://cyburg.tumblr.com/https://www.facebook.com/ClaudiaYBurgoa